Protesters in need of carrots after sticks
As violence gives way to peace at rallies, the government should consider reacting to latest overtures and taking a more conciliatory stance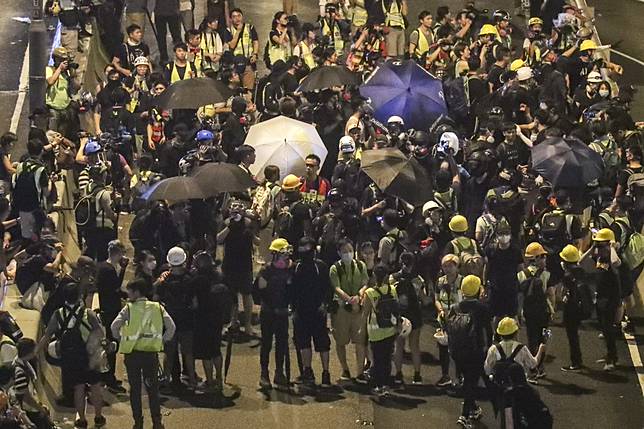 Boy, was I wrong! I was expecting another weekend of pitched battles and mayhem. But the opposition managed to pull off three days of peaceful rallies. No tear gas or rubber bullets; police state-of-the-art water cannons stood idle.
For once, the Civil Human Rights Front delivered what it promised " civil and peaceful disobedience. Of course, the faction of so-called peace, rationality and non-violence carried the day because the more violent and extreme people were perceived to have crossed the line at the airport more than a week ago, with the attacks on mainlanders and massive disruption to flights.
Even some of their own comrades have criticised them while the foreign press, usually sympathetic, published stories that put them in a bad light.
Though the rallies were technically illegal, the government was right not to denounce them, noting only that they disrupted traffic.
But the government needs to go further and use this as a peace overture. There has to be carrots, not just sticks. When so-called cockroaches were unleashed to cause destruction and mayhem across the city, tear gas and batons were the only possible answer.
But if protesters behave, the government needs to take a more conciliatory stance. How to deal with their five demands? The extradition bill is dead, long live the bill! Let's not waste any more time on that.
Amnesty for violent protesters and punishment for police? You can burn down the city and Beijing would not agree to them.
That leaves just a commission of inquiry and universal suffrage. It's beyond the power of the Hong Kong government to agree or deliver them, but it doesn't mean officials can't discuss them with the opposition.
For a commission to look into the causes of the recent unrest would, in effect, be examining Hong Kong society itself and everything that is wrong with it. That is unrealistic if not impossible. The two sides would have to narrow its scope.
As for universal suffrage, that will depend on the opposition in the legislature as much as the Hong Kong government. If the opposition does well in elections next year, it must indicate a willingness to soften its stance taken in 2015, when it rejected the government's electoral reform package.
Otherwise, the government can't take its case to Beijing to restart the reform process.
It takes two to tango. At the moment, everyone is dancing to their own tune.
Copyright (c) 2019. South China Morning Post Publishers Ltd. All rights reserved.