Plasma trade booms as COVID-19 cases surge in Iraq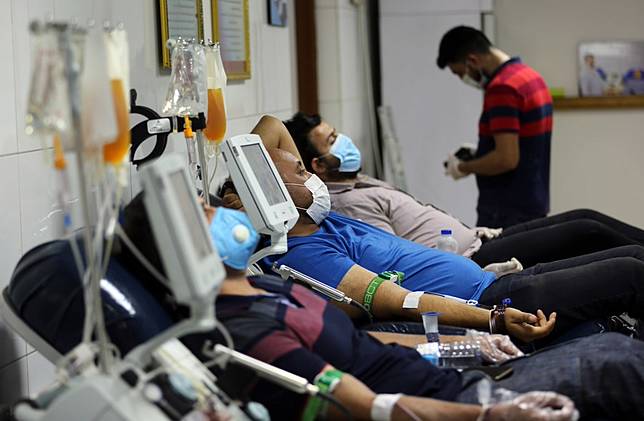 Patients recovered from COVID-19 donate plasma at the National Blood Transfusion Center in Baghdad, Iraq, June 28, 2020. (Xinhua/Khalil Dawood)
Some patients infected with COVID-19 in Iraq would like to pay "any price" for plasma trade in black market while health officials call for more free donations from those recovered.

BAGHDAD, July 3 (Xinhua) -- Plasma treatment to cure COVID-19 patients has emerged as a lucrative trade in the black market in Iraq, as the conflict-ridden country's health systems teeter on the brink of collapse after registering a total of 53,708 confirmed cases on Thursday.
Iraq records the third-highest daily increase of COVID-19 cases in the Middle East for weeks, lower than the epicenter of Saudi Arabia and Iran. Concerns are mounting as hospitals fill with patients. The crippled health systems lack the ability to treat a staggering 2,000 new cases daily, but plasma may be one answer.
The Iraqi Health Ministry said it has achieved positive results in treating people with COVID-19 by using plasma. Families of patients have flocked to seek plasma treatment "at any price."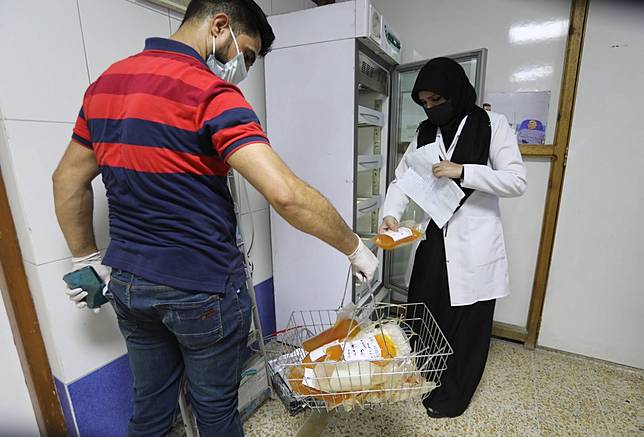 Medical workers are carrying some plasma bags for storage at the National Blood Transfusion Centre in Baghdad, Iraq June 28, 2020.(Xinhua / Khalil Dawood)

Mohammed Ali, a citizen from Iraq's northern city of Kirkuk, published a post on Facebook, begging for plasma to save his father who is confined in a quarantine hospital.
Demand for plasma from recovered COVID-19 patients is surging on social media from Baghdad and some other provinces.
"A blood plasma bag can cost as much as 2,000 U.S. dollars, and many are willing to pay even more to save the lives of their loved ones," one recovered patient said.
"People were avoiding talking to me or coming to my home and all members of my family suffered from stigma when I tested positive," the patient told Xinhua on the condition of anonymity. Now recovered, the patient's blood plasma is in demand.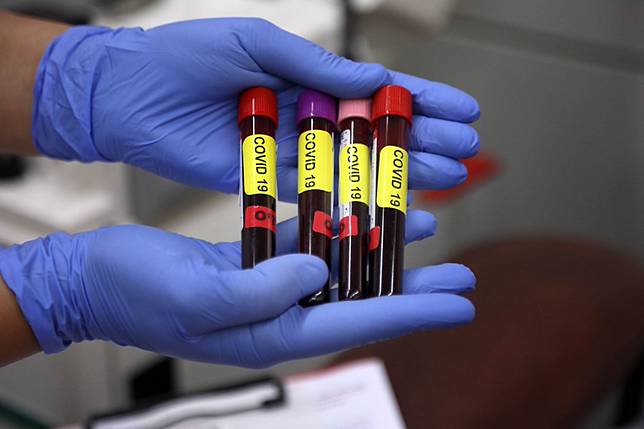 Blood samples donated by recovered COVID-19 patients for plasma extraction are collected at the Sheba Medical Center Hospital in Israeli city of Ramat Gan on June 4, 2020. (Gideon Markowicz / JINI via Xinhua)
Unlike buyers, those who are willing to sell their plasma usually live in poverty. They offer their plasma through brokers to avoid social and legal consequences.
Dr. Hamid Saadi from the Iraqi National Blood Transfusion Center in Baghdad told Xinhua that the blood plasma trade is a "very serious problem." He said the Health Ministry is cracking down.
"Such plasma trade cannot be accepted morally and scientifically," Saadi said. "It cannot guarantee that the plasma bag is free from HIV or other viruses. In addition, prospective buyers would never know whether the plasma bags were properly stored."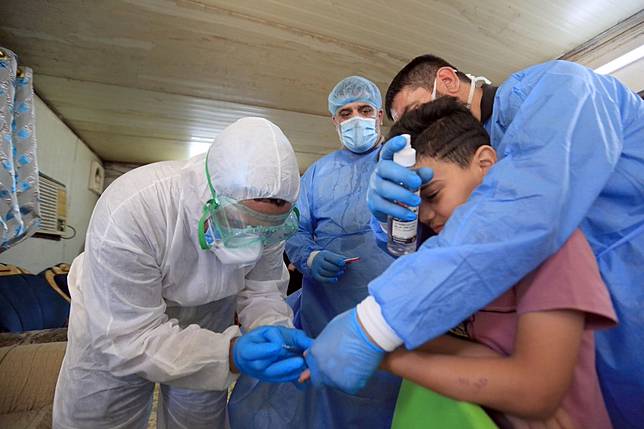 A member of the medical team takes a sample from a citizen to do a test for COVID-19 in Sadr City district in Baghdad, Iraq on May 21, 2020. (Xinhua/Khalil Dawood)
Saadi called on patients who have recovered from the coronavirus to voluntarily donate plasma to help those in need. He said so far only a few hundred plasma donations have been received despite the fact that patients recovering from the virus total 27,912 as of July 2.
The plasma trade has highlighted the inability of Iraqi health institutions to cope with a pandemic. Health systems have been wracked by conflicts and chaos since the U.S.-led invasion in 2003.
Saadi said major health challenges facing the Iraqi government include dilapidated health institutions and a severe shortage of ventilators, sterilization materials, health protection equipment and even inadequate beds, as well as lack of intensive health care sections.  ■