Pakistan celebrates Eid festival with simplicity, extra caution to avoid COVID-19 resurgence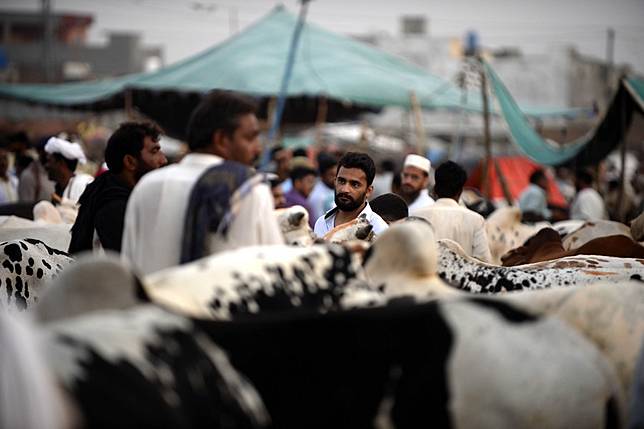 People visit a cattle market established especially for the Eid al-Adha festival in Rawalpindi of eastern Pakistan's Punjab province, July 30, 2020. (Photo by Ahmad Kamal/Xinhua)
"We are enjoying the festival to the fullest, but definitely we will have to follow precautions set by the government for our own safety."
"Health is the priority for my family and me as these festivals will come again if we live," Pakistanis said.
by Raheela Nazir
ISLAMABAD, Aug. 2 (Xinhua) -- Traditionally, Eid al-Adha festival in Pakistan is an occasion of jubilation and celebrations. It is symbolized with shopping spree in markets as people purchase new clothes, shoes, gifts and sacrificial animals to celebrate the major Muslim festival of the year.
During the Eid holidays, people visit homes of families and friends for Eid greetings, enjoy a big feast with a variety of dishes and share happiness of the occasion. This year, the festival is being observed on Saturday and the government has announced three-day holidays from Friday to Sunday.
However, the festival is entirely different this time from the past as the conventional celebrations and festivities are not visible as they used to be, amid the COVID-19 pandemic that poses major health and economic challenges for the people of Pakistan and the world over.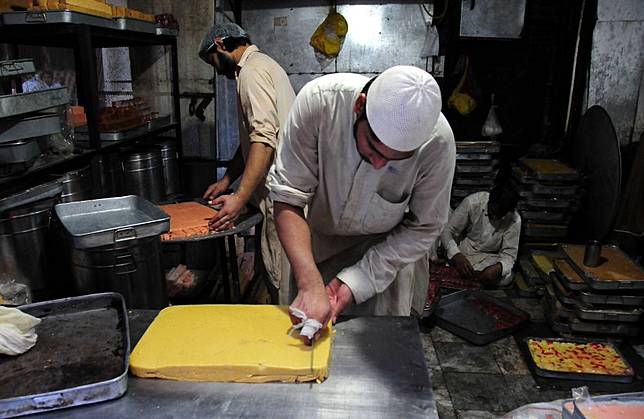 Workers prepare sweets on the eve of Eid al-Adha festival in northwest Pakistan's Peshawar on July 31, 2020. (Xinhua/Saeed Ahmad)
"I traveled all the way from federal capital Islamabad to my hometown in eastern Punjab province to meet my family and relatives, but the environment is fully occupied by unknown silence. The jubilation which was the hallmark of Eid festivals once is absent today," a government official, Muhammad Zahid told Xinhua.
"My house used to be full with people on Eid as such festivals are enjoyed with friends and family members without whom the occasion appears mere lackluster activity," he said, adding that though family gathering and outings are common during Eid holidays, but many would avoid these activities this year due to the ongoing pandemic.
"My family has no plans to visit friends and relatives or hold fun gathering at home on this Eid. Health is the priority for my family and me as these festivals will come again if we live," Zahid added.
While Pakistan's new COVID-19 cases have seen a declining trend over recent weeks, citizens are still living in the shadow of fear as health experts in the country believe that the virus can make a comeback if precautionary measures are not adopted properly during Eid holidays.
Earlier this week, Pakistani Prime Minister Imran Khan urged the countrymen to adopt strict safety measures during Eid and upcoming Muslim holy month of Muharram to prevent the virus from rebounding.
"Any recklessness on Eid and Muharram in terms of ignoring standard operating procedures can result in upsurge of coronavirus cases," the prime minister said in a televised address to the nation, adding that the government will be forced to impose strict lockdown in case of spread of the disease, which would result in increased financial losses and unemployment in the country.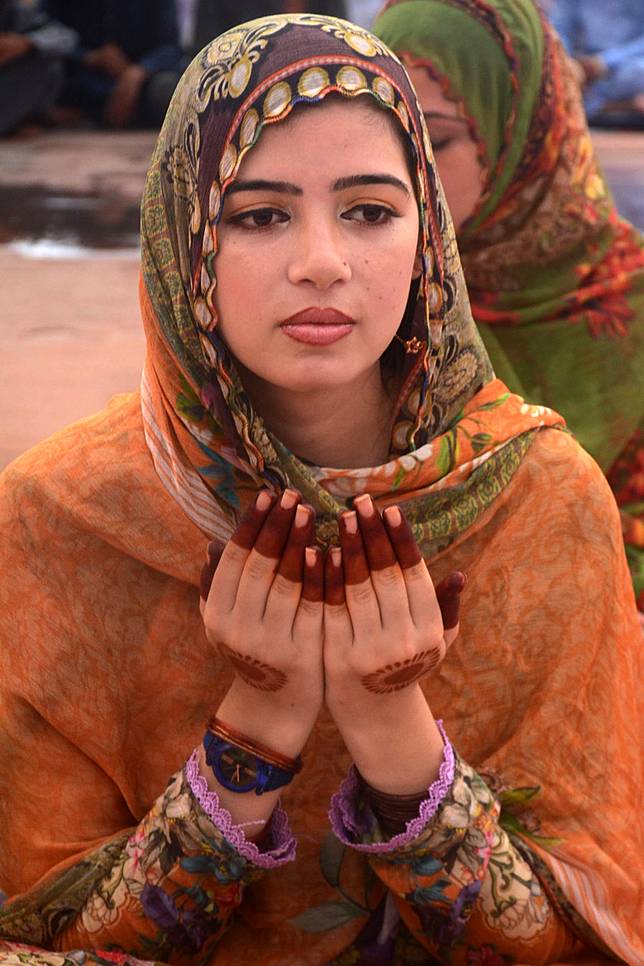 A woman offers prayer to celebrate Eid al-Adha Festival at the Badshahi Mosque in Lahore, Pakistan, on Aug. 1, 2020. (Photo by Sajjad/Xinhua)
However, in general there is an environment full of mixed feelings among the masses. In less populated areas where the situation is under control with less number of COVID-19 cases as people are following standard operating procedures, things are little different.
"My family and relatives are planning to celebrate the occasion more or less like before. We will be paying family visits and holding small scale barbeque parties and gatherings as we are not much worried due to a low number of confirmed coronavirus cases in our area," said a resident of northern Mirpur district Sardar Ijaz Khan.
"We are enjoying the festival to the fullest, but definitely we will have to follow precautions set by the government for our own safety," Khan told Xinhua.
In a bid to curb the spread of the virus ahead and during the festival, the federal government had rolled out guidelines for buying, selling and slaughtering of sacrificial animals and mass gatherings at mosques. Local administration in federal capital Islamabad has also banned all recreational centers, picnic spots, parks, hill stations and hotels during the Eid holidays.
Due to the pandemic and ensuing social distancing restrictions, Pakistan has witnessed a rise in Eid-related online shopping especially buying of sacrificial animals for the festival, also known as feast of the sacrifice. Online sacrificial services like delivering of animals, slaughtering or charity donation are being offered by a number of animal traders across the country.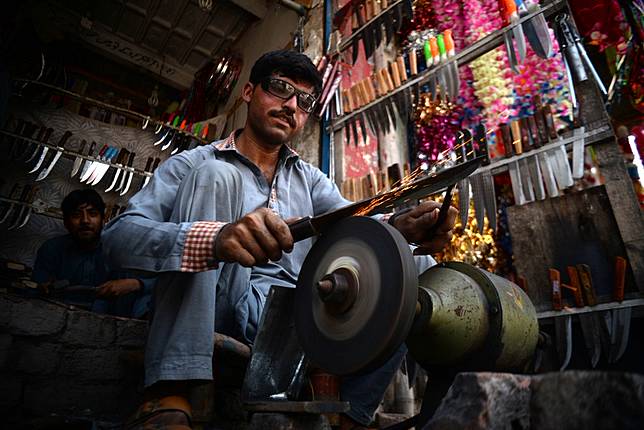 A craftsman sharpens a knife at a shop ahead of Eid al-Adha festival in Peshawar, Pakistan, July 30, 2020. (Photo by Umar Qayyum/Xinhua)
Talking to Xinhua, Mushtaq Niazi, an online trader of sacrificial animals in the eastern city of Lahore, said he has received four times more online orders as compared to the previous year as citizens are preferring not to visit cattle markets to ensure their safety.
"I have been providing this online buying and other sacrificial services for many years, but never got this response ever before," Niazi said.
As most of the people are celebrating the major festival of the year in a simple way, some are taking the opportunity to rejoice themselves by helping those who are the primary victims of the ongoing pandemic.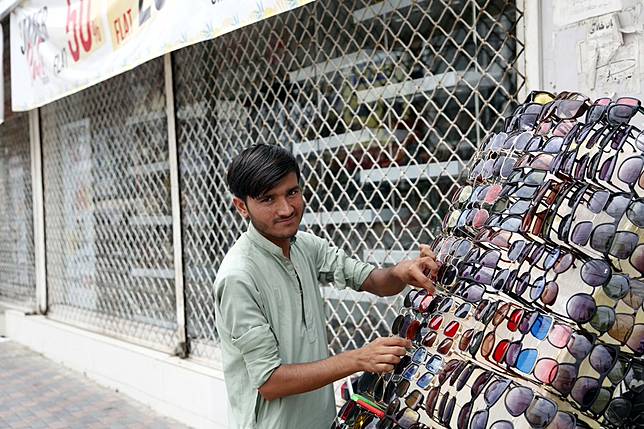 A street vendor sells sunglasses at a closed market during lockdown to contain the spread of COVID-19 in Rawalpindi of eastern Pakistan's Punjab province, on July 30, 2020. (Xinhua/Ahmad Kamal)
In a conversation with Xinhua, an Islamabad-based charity worker Shehryar Hassan said many people have not been able to cheer the festival as they have been laid off by their employers due to the closure of business activities amid the pandemic, badly deteriorating their financial conditions.
"We have been providing them with all the Eid-related essential items including new clothes, shoes and food items so they can enjoy the occasion like others as well," Hassan said.
"It's not just the government's responsibility to help those in need get through these challenging times. For me, Eid means happiness and it only increases when shared with others," he said.■