Nationalists hopping the Great Firewall to attack Hong Kong protesters praised by Chinese state media
CCTV praises patriotic netizens on Facebook and Twitter while Xinhua and others pay blocked sites to promote anti-protest propaganda
Internet users in China aren't supposed to access sites blocked by the Great Firewall. But now some are posting on social media sites banned in China -- and they're being praised by state media.
Facebook, Twitter and YouTube are famously blocked inside China. Providing a VPN service to help people access sites outside the Great Firewall can get a person fined or sentenced to jail.
As Hong Kong's protests rumble on, internet users who hop over the Great Firewall to post patriotic messages or support for Hong Kong's police aren't getting punished, they're getting praised by state media. And many state media outlets are also using Western social media sites themselves for paid propaganda campaigns.
Prime-time news program Xinwen Lianbo from state broadcaster CCTV recently praised two online groups for their campaigns spreading patriotic messages and support for Hong Kong police on foreign social media sites, including Facebook, Twitter and Instagram.
Fanquan Girls, roughly meaning "fan club girls," are young, female idol followers who often mobilize online campaigns in support of their favorite celebrities.
The second group, Diba, is a nationalist online community that periodically engages in "expeditions" to troll people they consider to have offended China. Diba will typically flood social media pages with patriotic, and sometimes abusive, comments and memes.
"These days, from Fanquan girls to Diba netizens to overseas students, all forces that love China and love Hong Kong are coming together as a strong positive energy, taking care of Hong Kong and fervently supporting Hong Kong," a CCTV anchor said in the segment.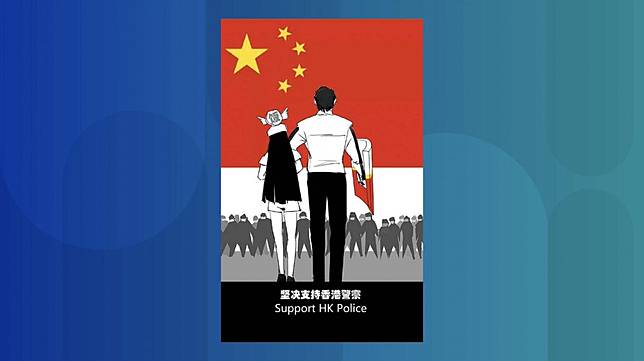 After the broadcast, a hashtag about the CCTV mention became the top-trending search on Weibo, where participants applauded the segment.
"I feel so honored! Brother Ah Zhong, rest assured, fangirls will always be with you!" one person wrote on Weibo in a comment that got more than 57,000 likes. The person used the common fan-style internet slang "Ah Zhong" to refer to China.
"The fan clubs are one family in front of the country," another Weibo user commented.
This is the first time a state broadcaster appeared to endorse such activity, but China's state media are no strangers to Twitter and Facebook campaigns. In fact, they seem to spend lavishly on the very platforms that are banned in their own country.
Twitter and Facebook are littered with promoted posts from state media. In 2017, The New York Times reported that the Chinese government was spending hundreds of thousands of dollars on Facebook ads through state media.
Over the past several weeks of unrest in Hong Kong, Twitter users have spotted promoted tweets by state-run outlet Xinhua News, which often seeks to elevate pro-China demonstrations and depict protesters as violent rioters. The efforts are aimed at "undermining sympathy for the Hong Kong protesters,'' The New York Times reported.
Every day I go out and see stuff with my own eyes, and then I go to report it on Twitter and see promoted tweets saying the opposite of what I saw. Twitter is taking money from Chinese propaganda outfits and running these promoted tweets against the top Hong Kong protest hashtags pic.twitter.com/6Wb0Km6GOb

" Pinboard (@Pinboard) August 17, 2019
Other state media outlets such as Global Times, and lesser-known ones like China Focus, have paid for promoted tweets relating to the Hong Kong protests, according to records on Twitter's Ad Transparency Center.
Twitter's country-level restrictions for political ads do not include China, and it's not clear how much the outlets have been paying or how many people they reach. However, many of Xinhua's promoted tweets are no longer available because they contained content that violated Twitter's ad policies, according to Twitter's Ad Transparency Center.
Copyright (c) 2019. South China Morning Post Publishers Ltd. All rights reserved.