More banks predicting Hong Kong home prices to decline, as persistent public unrest sours moods and crimps transactions
Home prices may drop by 10 per cent through to March 2020 as Hong Kong's economy shrinks this year, said Morgan Stanley, the first bank to predict a contraction in the city's economy
Prices may drop by as much as 30 per cent next year, in the worst of three economic scenarios outlined by DBS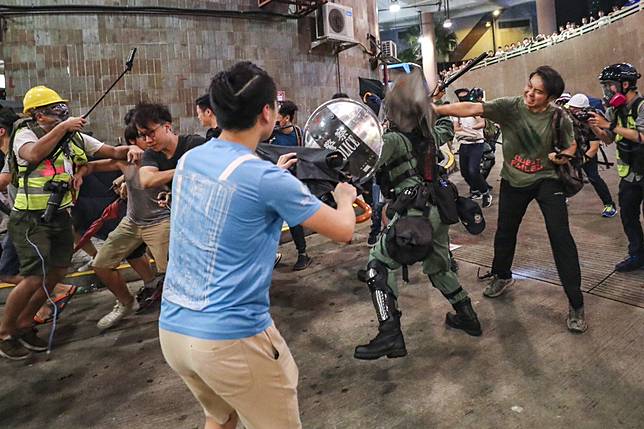 Hong Kong's property prices are poised to decline by 10 per cent through to March 2020, as the economy shrinks this year, according to a forecast by Morgan Stanley, the first bank to predict a contraction as protests across the city extend into their 12th week.
The "key drags" on the economy include "continued trade tension, disruption to economic activity due to unrest, as well as a potentially higher Hibor, which are likely to lead to broad-based slowdown in consumption, investment and trade in the second half of the year," said Morgan Stanley's economist Jenny Zheng, in a report.
Morgan Stanley joins a chorus of banks, including DBS and Bank of America-Merrill Lynch, that are now predicting home prices in the world's most expensive property market will decline from their June peak through to the first quarter of next year. In the worst of three scenarios outlined by DBS, prices could plunge by between 20 and 30 per cent next year.
Hong Kong's property bull run, which had just regained its pace in the first half after a five-month correction, began to stumble again in June, after an estimated 1 million people marched on the streets on June 9 against an unpopular extradition bill, unleashing wave after wave of rallies, work strikes, sit-ins and public unrest. Over the past fortnight, protesters have clashed with police and forced Hong Kong's airport to halt hundreds of flights over two days.
"We see no increase in residential prices for 2020 for now," said Karl Choi, Greater China property analyst at Bank of America-Merrill Lynch. "Previously we were looking for a 5 per cent increase in prices this year. Now our new forecast calls for a 2 per cent drop (overall) this year, down 10 per cent from the peak in June."
The slowdown is already being felt, as shrinking transactions force some panicking owners to sell their homes for a loss. A flat measuring 848 sq ft at Harbour Heights in North Point, the scene of violent clashes between protesters and local residents on August 5, recently sold for HK$14.88 million (US$1.9 million), a discount of 21 per cent to banks' valuation, according to Centaline Property Agency, one of the city's largest property agents.
The Centa-City Leading Index of lived-in homes eased 1.2 per cent from the end of June through the week that ended on August 11, according to Centaline Property. About 6,000 homes, parking lots and offices may change hands this month, down 42 per cent from the May peak of 10.353, said the property agent.
"Price declines come after volume decline," said Praveen Choudhary, Morgan Stanley's equity analyst. "Primary and secondary volumes are (at) record lows lately. Primary launches are delayed."
The downward spiral of home prices and equity prices hinge on when the current public disquiet gripping Hong Kong ends, DBS said.
In one scenario, where violent conflicts continue to escalate without an end in sight, investment sentiments will be affected, causing Hong Kong's economy to contract by between 3.8 per cent and 5.9 per cent, while the benchmark Hang Seng Index plunges by more than a third to as low as 16,800, from yesterday's close of 26,291.84, the Singapore bank said.
In the event that social order is restored as rallies dissipate by the time China marks the nation's 70th anniversary on October 1, home prices would be poised for a 5 per cent increase this year, said the bank's equity strategist Dennis Lam. If protests persist through the final quarter of 2019, then home prices will drop 15 per cent in 2020, Lam said.
Copyright (c) 2019. South China Morning Post Publishers Ltd. All rights reserved.