[Hotels by Design] A Taste of Japanese Tradition—Ace Kyoto, Japan
Japan had long been the dream for Ace, the American hotel brand that caters to creatives.
With properties across the US, and in Panama City and London, the late-2019 opening of Ace Kyoto marks the group's first property in Japan – and in Asia – and seeks to honour the deep-rooted culture and craftsmanship of Japan that has inspired many an artist.
Ace Hotels' late founder, Alex Calderwood, defined his hotels as "art projects" and as places to make you feel at home in the neighbourhood where they are found.Ace Kyoto continues this tradition. The property is a partnership with NTT Urban Development Corporation and forms part of a new cultural hub that is the redevelopment of ShinPuhKan.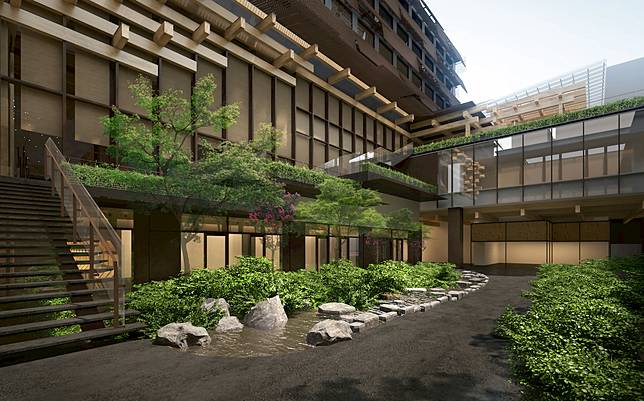 At the helm of the design is acclaimed Japanese architect Kengo Kuma so guests can expect a harmonious creation characterized by his poetic use of natural materials and light. Ace Kyoto's design blends new with old, incorporating renovations of the historic red-brick building – erected in the mid 1920s as the Kyoto Central Telephone Office and designed by one of the great Japanese modern architects, Tetsuro Yoshida) – and new elements that include a wooden grid system that references traditional Kyoto.
The interiors are a collaboration between Japanese artists and artisans to reflect and preserve the area's creative spirit and pay homage to its history – both imperial and industrial.
The hotel's surrounding area overlaps with the former grounds of the imperial palace, while Kyoto's cultural highlights are in the immediate vicinity with Nishiki Market, the Museum of Kyoto and the Kyoto Art Center all within easy reach.
For a taste of tradition, age-old craftsmanship is on display in the neighbourhood's classic shops that include Kamesuehiro (a traditional cakes and sweets store), Shoyeido (one of Japan's oldest incense purveyors) and Miyawaki Baisenan (known for its folding fans).
 地址:Japan, 〒604-8172 Kyoto, Nakagyo Ward, 姉小路下ル場之町586-2 Karasuma Dor
Photos via Ace Kyoto
See More:[Hotels by Design] A Hotel at Cape Town's Coolest Neighborhood: Gorgeous George