Hong Kong stocks plunge as trade war escalates and protests return to violent clashes over weekend
Hang Seng trading down more than 3 per cent
Property stocks slammed; China stocks also fall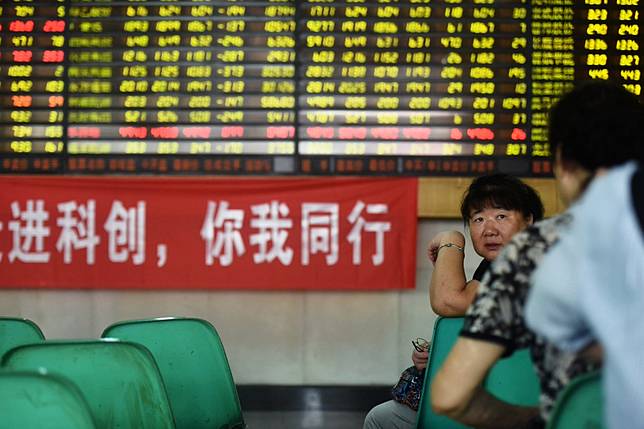 The Hang Seng Index tanked in early Monday trading, weighed down by a ramp-up in the US-China trade war and weekend demonstrations in which Hong Kong police for the first time used water cannons to try to disperse protesters.
The Hang Seng was down 3.27 per cent to 25,322.89, with the pain spread across sectors.
The industrial and commerce sector, as well as properties, led the plunge in the blue chip index.
In percentage terms, electronics maker AAC Technologies plunged 9.9 per cent to HK$33.3, making it the biggest loser in early trading on the Hang Seng Index.
Sunny Optical was down 6.5 per cent at HK$98.2. Geely Auto dropped 6 per cent to HK$11.22.
Properties also dropped, with China Resources Land down 5.5 per cent at HK$31, while Henderson Land fell 2.6 per cent to HK$36.8. Swire Pacific fell 2.6 per cent to HK$75.9.
"It's nearly all on the trade war now," said Alan Li, portfolio manager at Atta Capital. "If China and the US don't do anything to calm the market down, the HSI is likely to break 25,000 again early this week."
In China, most indexes were also down.
The CSI, which tracks blue chips listed on Shanghai and Shenzhen, dropped 1.4 per cent to 3,768.45 while the Shanghai Composite Index lost 1.4 per cent at 2,856.65.
Over the weekend, US President Donald Trump said the US would increase tariffs on almost all Chinese imports, raising tariffs to 30 per cent from 25 per cent on US$250 billion worth of goods on October 1. For another US$300 billion of Chinese goods, tariffs will increase to 15 per cent from 10 per cent, starting September 1.
Hong Kong protests over the weekend saw police fire a warning gun shot for the first time to ward off protesters.
Protests have gone on for 12 weeks. They started over a now-suspended bill to allow the extradition of fugitives to jurisdictions with which Hong Kong has no agreement, including mainland China. The protests have since expanded into a wider anti-government movement.
Copyright (c) 2019. South China Morning Post Publishers Ltd. All rights reserved.