Hong Kong protests: travellers unfazed despite long queues as security is tightened at Hong Kong International Airport after earlier chaos
Two-metre-tall water barriers block airport's street-level entrances
Those going through two remaining doors must show a valid ticket or boarding pass to be allowed into departure hall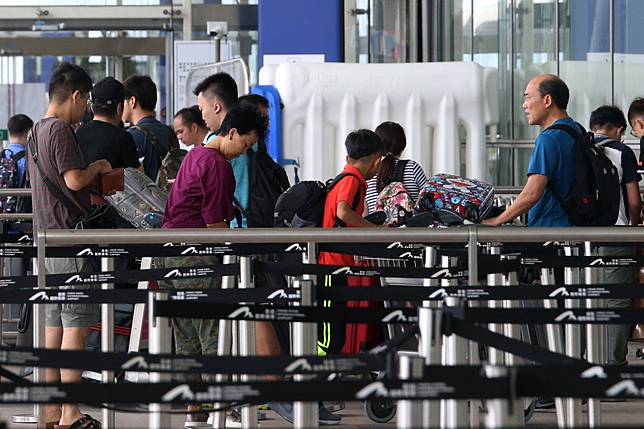 Travellers were calm as tight security kicked in at Hong Kong International Airport on Saturday, after anti-government protesters caused havoc there for two days in a row earlier in the week.
Two-metre-tall water barriers blocked the airport's street-level entrances, and people going through the two remaining doors had to show a valid ticket or boarding pass to be allowed into the departure hall.
On Saturday morning, long queues formed at the two entrances as passengers waited to clear the security check at the doors.
By evening, however, the queues had cleared and passengers said they did not have any trouble entering the departure hall.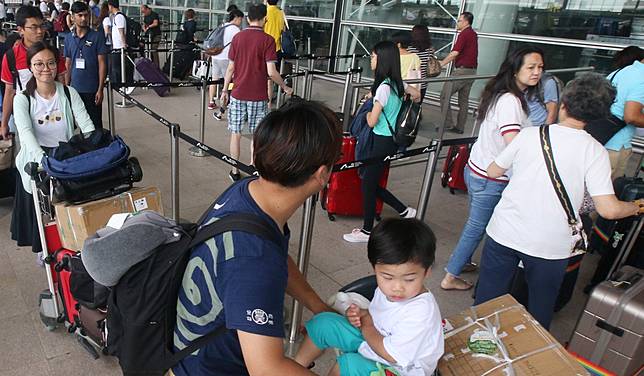 Niek Heemskerk, a business traveller from the Netherlands, was pleased with the security measures.
"I'm happy it's not too overcrowded, so I can sit and read my book," he said.
The added security measures were put in place after the Airport Authority was granted a temporary injunction to keep protests within a designated area.
No protesters were seen on Saturday, and the airport operated normally.
Police were seen stationed at airport entrances and men in plain clothes wearing security tags were also present.
An Australian visitor, who declined to be named, said: "I feel (the staff) are being extra friendly to make up for the inconvenience."
She said she was at the airport five hours early for her 10pm flight to Sydney in Australia and did not think the extra security was an inconvenience.
"I feel more safe knowing people here are actually travelling," she said.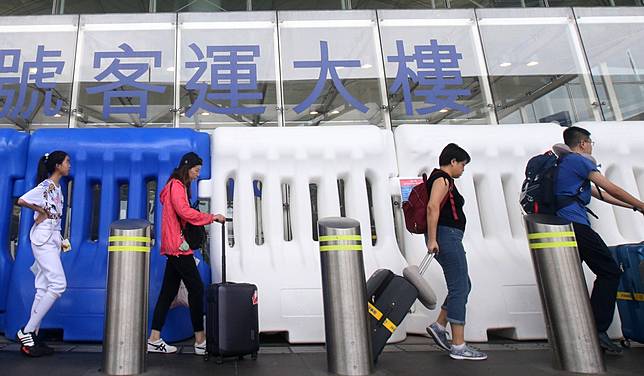 At the Airport Express platform at Hong Kong station, cordons were set up to direct passengers in one direction.
The frequency of trains from Hong Kong was reduced to one every 20 minutes at the request of the government and Airport Authority.
Emmanuelle Goujet, from France, said she had arrived at the airport half an hour earlier than she usually would for a flight because she knew about the protests.
Goujet, who was travelling to Switzerland, said she had no trouble entering the airport.
"They are just being cautious, if the security wasn't there, then maybe the protesters would be here, so it is understandable," she said.
Protesters had occupied the airport from last Friday to protest against the now-abandoned extradition bill and police brutality. The sit-in, originally scheduled for three days, gained renewed momentum on Monday after a female protester was hit in the eye allegedly with a beanbag round fired by police during a demonstration on Sunday.
All flights leaving the airport after 4pm on Monday were cancelled as protesters flooded both terminals. On Tuesday, the airport became a scene of chaos as protesters again blocked passengers from departing and held two mainland Chinese men for hours.
There were violent clashes between police and protesters at night. One policeman drew his firearm after he was surrounded by protesters.
Nearly 1,000 flights were cancelled as a result of the partial shutdown on Monday and Tuesday.
Copyright (c) 2019. South China Morning Post Publishers Ltd. All rights reserved.