Hong Kong leader Carrie Lam slams 'rioters' who attacked police in Sha Tin on Sunday and calls on all residents to defend rule of law
At least 22 people injured when violent clashes broke out in northern town following march
Police chief had earlier described protesters as 'rioters' and vowed those responsible would be tracked down and held accountable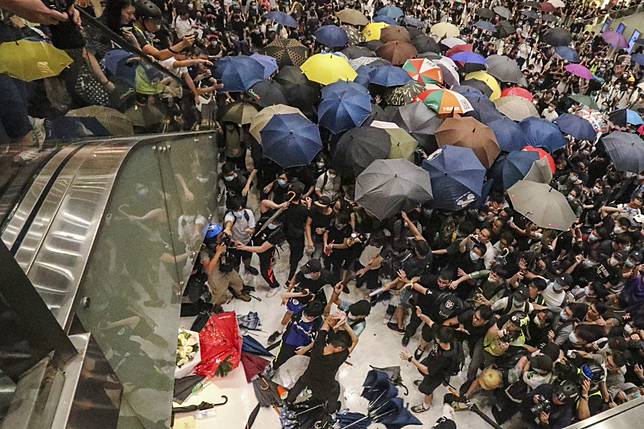 Hong Kong's embattled leader Carrie Lam Cheng Yuet-ngor has condemned the "rioters" who attacked police officers on Sunday, saying their violent acts cannot be tolerated in a society with the rule of law.
Lam also dismissed suggestions she had tendered her resignation, after visiting injured police officers at a hospital in Tai Po on Monday alongside Secretary for Security John Lee Ka-chiu.
At least 22 people were injured when violent clashes broke out in Hong Kong's northern town of Sha Tin on Sunday night. Commissioner of Police Stephen Lo Wai-chung described protesters involved in pitched battles at shopping centres as "rioters", and vowed to track down those responsible and hold them accountable.
Lam said police officers had remained restrained while "rioters attacked them". She also urged people to defend the rule of law.
"The rule of law has been the cornerstone of Hong Kong's success … and to defend it, both the Hong Kong people and the government need to obey the law," she said.
Lam said violence should not be tolerated in Hong Kong.
What Carrie Lam can learn from Hong Kong's history of riots
"Time and again, we have seen some people resorting to violent protests after peaceful demonstrations, and attacking law enforcement officers," she said.
"I strongly reprimand all violent protests."
Lam added Hong Kong could only remain safe if everyone did their best to defend the rule of law. She said she would continue to support the police in performing their duties.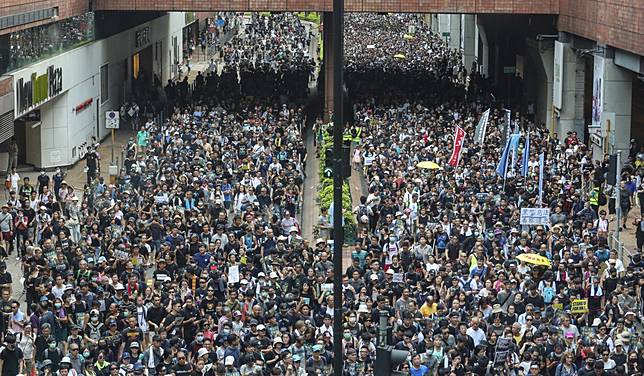 "The police force and the Department of Justice will investigate these cases as soon as possible and make prosecution decisions, so the court can judge on these cases," Lam said.
Lee said violent attacks against police officers had been escalating.
Exhausted, stressed and insulted: Hong Kong police soldier on
"Such violence should not be rationalised," he said, adding the officers had the responsibility to protect the safety of people as well as property.
On Sunday, the Financial Times cited two people claiming to have knowledge of the situation who said Lam had volunteered to step down on several occasions in recent weeks over mass protests in the city but Beijing had refused.
Eric Chan Kwok-ki, director of the Chief Executive's Office, dismissed the report as "groundless".
During the media briefing on Monday, Lam said while she was currently facing much difficulty, she was still committed to her work for the remainder of her term, which ends in June 2022.
Opinion: Engaging with Hong Kong's young a priority after troubles
Speaking separately, Financial Secretary Paul Chan Mo-po said violent clashes would affect Hong Kong's international image but the city was still business-friendly because the market could always resume normal quickly.
"When we have meetings overseas, many people show concern for Hong Kong's situation," Chan said.
"We take the opportunity to explain to them that even though we have had demonstrations, our market quickly returns to normal afterwards and we always welcome business."
Copyright (c) 2019. South China Morning Post Publishers Ltd. All rights reserved.