Hong Kong MTR station partially closed after protesters damage facilities in late-night gathering
Exits A and D at Kwai Fong closed after masked group gather to demand answers over clashes with police on August 11
Member of MTR staff reportedly arrested on suspicion of assault after man suffers facial injuries
Two exits at a Hong Kong MTR station were closed on Friday morning after anti-government protesters vandalised facilities there the night before.
The MTR Corporation said exits A and D at the Kwai Fong station reopened at 1pm after areas were repaired and cleaned. They had been closed while police investigated an incident that led to one arrest.
But the rail operator said services were not affected, and passengers used other exits to access the station.
On Thursday night, a group of masked protesters gathered to demand that the rail operator explain why police were able to fire tear gas inside the station on August 11.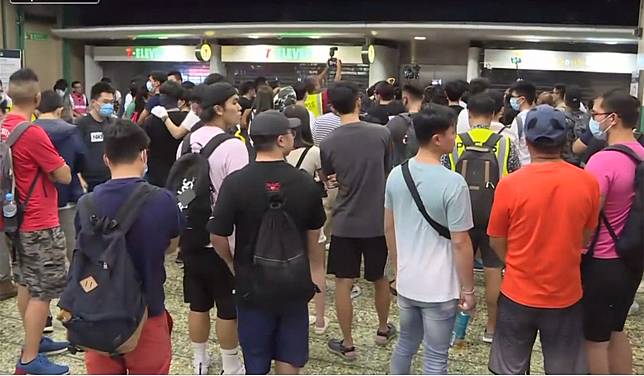 The police later said their actions had been in response to protesters firing ball bearings at them, endangering the safety of officers and members of the public.
Protesters also threw what police called "smoke cakes" on August 11, weapons which smoulder and emit noxious fumes.
In Kwai Fong, local media footage showed people standing in front of the turnstiles and asking passengers to enter without paying.
An 18-year-old man, reportedly a member of MTR staff, was arrested by police on suspicion of assaulting a 25-year-old man, who suffered injuries to the face.
The corporation has come under increasing pressure for what mainland Chinese media has suggested is the free escape route it has provided for protesters who attack police, cause havoc in its stations, and then take the train to safety.
On Thursday, the rail operator announced in future it would stop services and immediately close stations without notice, "if fights, vandalism or other acts of violence" occurred.
Copyright (c) 2019. South China Morning Post Publishers Ltd. All rights reserved.