Hong Kong's stock market has always bounced back strongly after big protests in the past. Will it this time?
Hang Seng is down 3 per cent since first massive demonstration on June 9
Hong Kong market has historically rebounded strongly after protests caused a tumble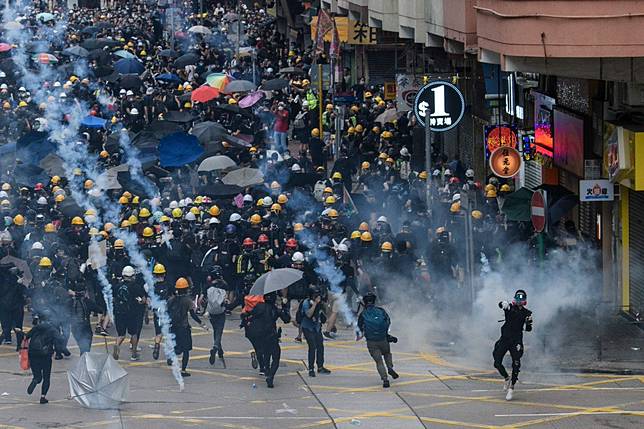 Hong Kong is the ultimate comeback town. But ongoing protests are rattling its stock market " and its investors.
"The fundamentals of Hong Kong companies are really dampened by the social movement," said Alex Wong, director of asset management at Ample Capital. "Investors should take this opportunity to cut their holdings of Hong Kong equities and move into overseas or Chinese companies, listed either in the mainland or in Hong Kong."
The Hang Seng Index is down 3 per cent since the first major march on June 9. After a huge run at the start of the year " the benchmark was up nearly 17 per cent on April 9 " it has given up nearly all of its year-to-date gains and is now ahead by a mere 1.3 per cent.
Of late, protests have been the biggest weight on Hong Kong's stock market, a number of analysts said, and they erupted into clashes between police and anti-government demonstrators again on Sunday. But the US-China trade war is likely to smack stocks again as well Monday, after US president Donald Trump "hereby ordered" American businesses to abandon China in a tweet Friday and said he is raising tariffs further following Beijing's warning it will raise tariffs on US$75 billion in US imports.
Should investors get back on Cathay Pacific's bumpy flight as protest storm sets off a wild ride for its stock?
Among those that have been especially hard hit during the protests are the city's property developers, which have dropped 8 per cent since June 9, according to the Hang Seng property subindex. Consumer stocks tied to Hong Kong companies have been hammered as well.
People are less likely to go to malls, buy new homes or go out for dinner. That's pounding related stocks. The protests have also beamed out a sometimes scary image of what is normally a safe and orderly city, hurting tourism and related listed companies.
And the protests have raised alarms about how far Beijing will go in pressuring private companies to bend to its will.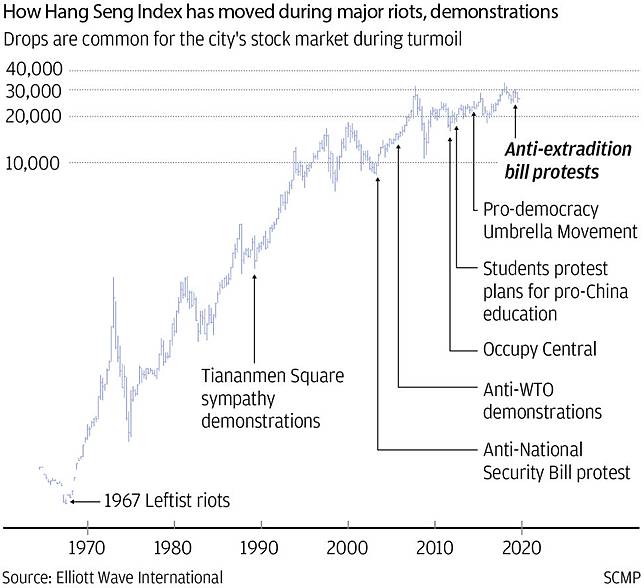 Cathay Pacific found itself caught up in the protest storm after it drew Beijing's ire over its initial support for employees' participation in marches. It dropped by as much as 7 per cent in total on the two days protesters at the airport led to cancelled flights. Cathay's turmoil isn't over, as its brand was bruised among all-important Chinese travellers.
Meanwhile, Cathay's high-profile drubbing by Beijing has raised concerns in the international investment community about the future of doing business in Hong Kong, known as one of the world's freest capitalist markets.
"Everything depends on whether the Hong Kong government can quell the unrest," said Francis Lun, chief executive at Geo Securities.
With no end in sight, analysts advise investors to dump Hong Kong consumer stocks and selective property developers, and seek protection in such sectors as Chinese retailing, insurance and pharmaceuticals, as well as Macau casinos.
Bet on Macau casinos, where too much is never enough, stock analysts say
But in the long run, if history is anything like a crystal ball, investors can expect the market to rebound strongly once the protests end, although the trade war remains a wild card.
During the 1989 Tiananmen Square demonstrations in Beijing, and the sympathy demonstrations in Hong Kong, the Hang Seng plummeted 27 per cent, according to a study by Elliot Wave International, a US market research institution. It went on to enter into a bull market that led it up 523 per cent. In the pro-democracy Umbrella demonstrations in 2014, the Hang Seng fell 4.8 per cent. It then rebounded 26 per cent.
The price-to-earnings ratio of the Hang Seng Index declined to 10.2 times on Friday, down from 11.8 in April. The ratio " which shows the dollar amount an investor needs to invest in order to receive one dollar of the company's earnings " represents an attractive valuation to many people.
"The valuation level of Hong Kong stocks is at one of the lowest since 1998, so I think there's limited downside . … The market has priced in a lot of negatives, and will take off as soon as there is any good news," said Kevin Leung, executive director of investment strategy at Haitong International Securities.
Portfolio manager Wong encourages investors to look at stocks tied to China's consumption-related economy.
Beer maker Tsingtao Brewery's better-than-expected second quarter result show the strength of such stocks.
When China's father of EVs starts talking up hydrogen vehicles, analysts say investors should pay attention
On top of Tsingtao, Wong also named its rival China Resources Beer Holdings, electronic tool maker Techtronic Industries, and property manager China Overseas Property Holdings as his top picks.
Chinese drug makers are also a favourite among analysts, as more supportive policies are likely to be rolled out to encourage the development of innovative drugs, according to Stanley Chan, director of research at Emperor Securities. Sino Biopharmaceutical and CSPC Pharmaceutical Group could benefit, he said.
Chinese insurers could also be given a boost from the government's push for lower taxes across the country, Geo Securities' Lun said.
Operators of casinos in Macau, which are all listed in Hong Kong, could also be winners, according to analysts at Jefferies, as mainland Chinese tourists may choose the city " where the focus is on getting rich at the tables, not on politics " over its neighbour. Jefferies' top picks are Sands China and Wynn Macau.
Not everyone agrees protests are driving the Hang Seng.
"It is not about the protests, it is about the world market being very volatile," said Iris Pang, Greater China economist for ING Bank. "For the Hong Kong economy as a whole, I don't think it is affected (by the protests). It is more the trade war.
Some have a bleak view of what's ahead for the Hang Seng.
DBS Bank forecasts the Hang Seng Index will finish at 26,050 at the end of the year even if protests end before October, which would pretty much put it at Friday's close.
And the benchmark could finish at 24,400 if demonstrations drag on, and plunge to as low as 16,800 if there is an escalation of violence and confrontation, according to a Monday report by Dennis Lam, Hong Kong and China equities strategist at DBS.
"The rising unrest in Hong Kong has further diminished the already low risk appetite in the market, and the Fed's less dovish stance, coupled with recent hiccups in trade negotiation, means that risk appetite will continue to stay low," Lam wrote.
And in the unlikely case of a military crackdown by China, Hong Kong's market could see half of its value evaporate, said Alan Li, portfolio manager at Atta Capital.
But Mark Galasiewksi, an editor at Elliot Wave International, says Hong Kong's story over similar difficult times tells investors that this is the time to buy, not flee.
"The time to buy is when blood is running on the street. That's exactly what we are observing in Hong Kong," he said. "You want to begin to anticipate a rising market, rather than expecting a societal collapse like many are fearing right now."
Additional reporting by Georgina Lee, Louise Moon and Deb Price
Copyright (c) 2019. South China Morning Post Publishers Ltd. All rights reserved.