HSBC, Standard Chartered, Bank of East Asia speak up against violence, call for peace as Hong Kong's protests continue
HSBC, Standard Chartered and Bank of East Asia took out full-page and quarter-page advertisements in several of Hong Kong's Chinese-language newspapers to call for a return to peace and public order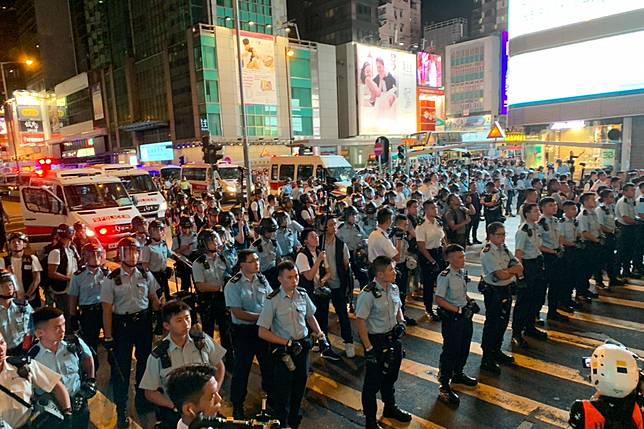 HSBC, Standard Chartered and Bank of East Asia have spoken up against the violence that has taken over 11 weeks of popular opposition to a controversial extradition bill, joining a chorus of Hong Kong's biggest companies to call for calm amid the worst political crisis in the city's history.
The three banks " two of which are among the city's three currency issuers " took out advertisements in several Chinese-language broadsheet newspapers in Hong Kong to call for calm and a return to order.
HSBC's full-page advertisements appeared in five newspapers while Standard Chartered took out full pages in three, including Singtao Daily. Bank of East Asia took out quarter-page statements in three newspapers including the Tai Kung Po and Wen Wei Po.
The three banks are the latest to speak up, joining more than a dozen of the city's largest property developers, the 'Big Four' accounting firms and Cathay Pacific in recent weeks to declare their support for the status quo, amid a crisis that has divided Hong Kong's population. Even Li Ka-shing, the city's wealthiest businessman, came out from retirement to take out advertisements to call for restraint.
What began as a peaceful march on June 9 involving an estimated 1 million people against a controversial extradition bill has deteriorated into frequent clashes between riot police and protesters over nearly three months.
Even though the city's Chief Executive Carrie Lam Cheng Yuet-ngor declared the unpopular bill "dead," her reluctance to withdraw it had spurred persistent rallies, which have deterred tourists, pushed retail sales into a tailspin and caused an initial public offering (IPO) drought in Asia's financial hub.
Amid the unprecedented civic unrest, Hong Kong's banks had been trying to wait out the political storm.
Seven of Hong Kong's largest banks, including two of the three currency issuers, closed 230 branches early between them on August 5 " a Monday " when protesters called for a citywide strike.
China Citic Bank, a unit of mainland China's largest conglomerate, closed its branches in Admiralty whenever protesters gathered in the business district to besiege the local legislature, and also in Yuen Long, the scene of some of the most violent clashes between protesters and local residents.
The banks had also been the targets of a failed attempt to empty out their automated teller machines (ATMs) in a city where 160 licensed banks serve 7.4 million residents. Hong Kong had 50.09 ATMs and 21.43 branches for every 100,000 residents in 2016, according to World Bank data. That's higher than the global average of 47.55 and 12.6 among urban centres.
"As a company rooted in Hong Kong, (HSBC is) very concerned about the recent social events and strongly condemn any violence and actions that disrupt social order," said the bank in full-page advertisements in Hong Kong Economic Times, Hong Kong Economic Journal, Wen Wei Po, Tai Kung Po and Singtao Daily.
Rule of law is indispensable for Hong Kong, said HSBC, founded in the city in 1865, and which still earns half of its global revenue in Asia, including Hong Kong and mainland China
Standard Charted had a similar stance, opposing the use of violence and calling for a return to the rule of law to safeguard Hong Kong's role as a financial centre. Bank of China (Hong Kong), the third of the currency issuers, advertised in two Chinese newspapers in early August.
Their statements underscore how global companies have to walk a fine line between being good corporate citizens and reining in the political viewpoints of the dissenters within their workforce.
One in five of HSBC's global workforce of 238,000 employees work in the bank's offices in mainland China, Hong Kong, Macau and Taiwan. Senior management allowed their Hong Kong staff to attend a midweek demonstration in June as long as they didn't break the law, according to a Financial Times report.
"The bank has always respected our employees have their own personal views on political and social matters," HSBC said in an email at the time, when protests remained peaceful.
The bank has gone on a quiet charm offensive in recent months with Beijing authorities to ward off calls by some in China for it to be placed on a list of "unreliable" foreign entities. The bank lost two top executives in a week in early August, and was left out of a rate-setting club by the People's Bank of China when it chose 18 lenders to determine the loan prime rates.
HSBC's dilemma is shared by many Hong Kong-based companies, whose positions are made more precarious by China's market of 1.4 billion consumers.
Cathay Pacific Airways, Hong Kong's hometown carrier, found itself the target of boycotts by several Chinese companies, when its management said it would not stop staff from taking part in demonstrations.
The airline reversed its course several days later and threatened to sack employees, after China's civil aviation regulator drew a red line over Cathay Pacific crew who joined the protests.
Cathay Pacific's chief executive officer Rupert Hogg resigned on August 16, four days after his airline expressed its compliance with the Chinese regulator's bottom line.
Copyright (c) 2019. South China Morning Post Publishers Ltd. All rights reserved.