Greece denounces Turkey's decision to convert Istanbul's Hagia Sophia museum into mosque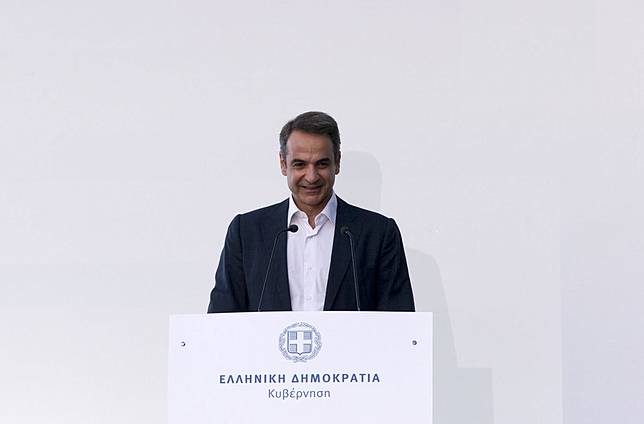 Greek Prime Minister Kyriakos Mitsotakis delivers a speech at an event on public health in Athens, Greece, on July 1, 2020. (Xinhua/Marios Lolos)
The Turkish government's plan has been drawing reactions of several countries, including Greece and the United States, which have been urging Turkey to keep the museum status of the historic monument.
ATHENS, July 11 (Xinhua) -- Greek Prime Minister Kyriakos Mitsotakis on Friday strongly condemned Turkey's decision to convert Istanbul's Hagia Sophia museum into a mosque, warning of its impact on Turkey's relations with Greece and the European Union.
Hagia Sophia is an iconic Byzantine church built in the 5th century. Throughout the centuries, the former Greek Orthodox Christian church had also served as a Roman Catholic cathedral and an Ottoman mosque as the city changed rulers. Since 1935, Hagia Sophia has been open as a museum. It has been recognized by UNESCO as a monument of world cultural heritage since 1985.
"Greece categorically condemns Turkey's decision to convert Hagia Sophia into a mosque. This decision, taken 85 years after Hagia Sophia was declared a museum, is an affront to its ecumenical character. Furthermore, it is a decision that offends all those who recognize Hagia Sophia as an indispensable part of world cultural heritage," Mitsotakis said, according to an e-mailed press statement.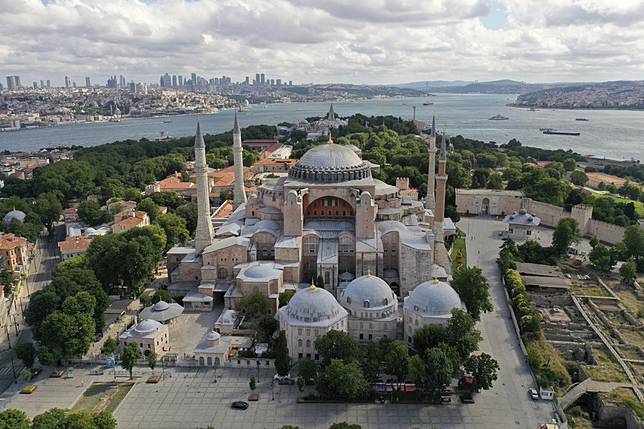 Aerial photo taken on July 10, 2020 shows the Hagia Sophia in Istanbul, Turkey. (Photo by Osman Orsal/Xinhua)
"This decision clearly affects not only Turkey's relations with Greece, but also its relations with the European Union, UNESCO, and the world community as a whole. It is a truly regretful development that the Turkish leadership, after working for the Alliance of Civilizations in 2005, has now taken the decision to reverse course," the prime minister added.
Earlier on Friday, the Turkish State Council reached a verdict on the fate of the monument and Turkish President Recep Tayyip Erdogan announced the first Muslim prayer at the site will be held on July 24.
U.S. State Department spokesperson Morgan Ortagus on Friday said they were "disappointed by the decision by the government of Turkey to change the status of the Hagia Sophia."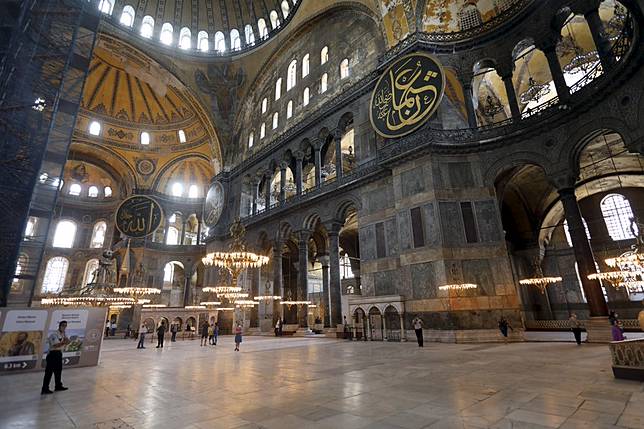 People visit the Hagia Sophia in Istanbul, Turkey, on July 10, 2020. (Photo by Osman Orsal/Xinhua)
"We understand the Turkish Government remains committed to maintaining access to the Hagia Sophia for all visitors, and look forward to hearing its plans for continued stewardship of the Hagia Sophia to ensure it remains accessible without impediment for all," she added.
Turkish President Recep Tayyip Erdogan on Friday denounced the rising international criticism over the decision.
"The accusations against our country on the Hagia Sophia mean a direct attack on our sovereignty rights," Erdogan said at the opening ceremony of another mosque in Istanbul.
"We will continue to protect the rights of Muslims, the dominant faith in our country, and those of other religions," he added.■