Cycle of violence has become predictable
Hongkongers have the right to protest, but laws have to be followed and violence can never be justified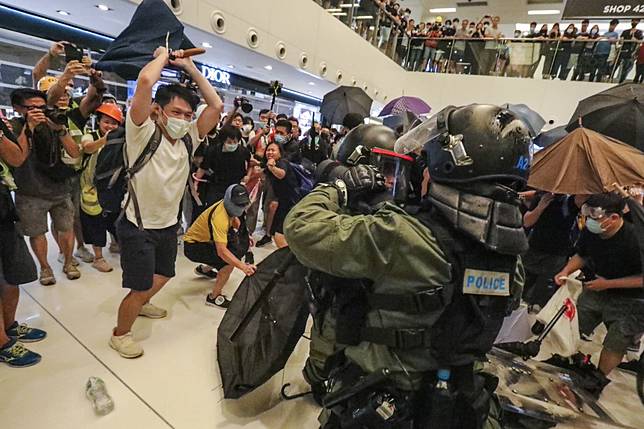 The cycle has become all too predictable " a peaceful protest against the government that ends in clashes between young dissenters and police. A turning point seemingly came with the unprecedented breaking into and vandalising of the Legislative Council chamber. The post-rally unrest has since worsened, with July 14's events at New Town Plaza shopping centre in Sha Tin descending into violence that resulted in 13 officers and 15 protesters being injured, several seriously. With another major rally on Sunday from Victoria Park in Causeway Bay to Southorn Playground in Wan Chai, one more possibility arises for a radical few to push an agenda of hatred. But hot-headed confrontation is no way to deal with grievances and passions have to be kept in check to avoid tragedy.
Society has been torn by the string of protests, with calls for the government to withdraw its controversial extradition bill among complaints. Clashes between extremists and police have caused complications. Pro-establishment groups held their second rally yesterday in support of officers and to condemn violence. Chief Executive Carrie Lam Cheng Yuet-ngor's declaration that the extradition bill is "dead" has not eased tensions. A total of 35 senior figures from across civil society on Friday called on the administration to launch an independent inquiry into the unrest, contending this would be the best way to heal divisions. "Political problems have to be resolved by political means," their statement said.
Police have become a target of those with a radical bent; officers are perceived as being anti-protest. They are caught in the middle, their job being to ensure peace and order and that laws are followed. The hatred that has been directed towards them is unwarranted and it is little wonder that morale within the force has plunged. For vitriol to be directed towards them makes no sense as they are the ones who will be called on should trouble break out.
Hongkongers have the right to protest, but rules and laws have to be followed. There are avenues for debate and discussion and all involved have to be willing to listen. Violence can never be justified.
Copyright (c) 2019. South China Morning Post Publishers Ltd. All rights reserved.