Coronavirus Watch in Mideast: Turkey's COVID-19 cases surpass 164,000 amid slowdown trend as Iran sees re-spike with nearly 3,000 new infections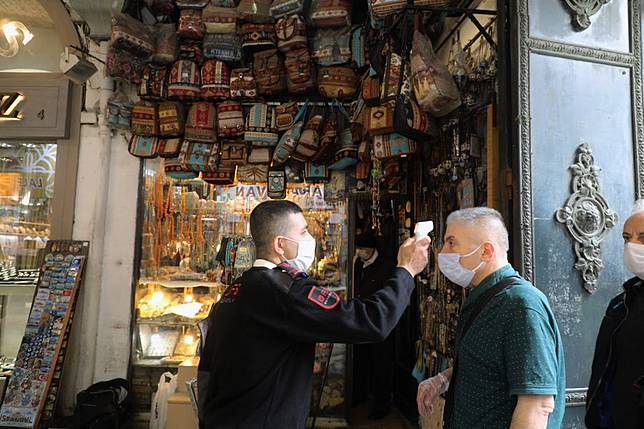 A staff member checks the body temperature of a visitor at the Grand Bazaar in Istanbul, Turkey, on June 1, 2020. (Xinhua/Osman Orsal)
--Turkey's COVID-19 cases reach 164,769 with 4,563 deaths;
--Iran reports nearly 3,000 new cases;
--Egypt's death toll surpasses 1,000;
--Iraq records highest 429 daily new infections.
CAIRO, June 1 (Xinhua) -- Turkey's COVID-19 cases on Monday exceeded 164,000 with more than 800 new cases. Meanwhile, Iran reported nearly 3,000 new infections with the tally surpassing 154,000.
The total number of COVID-19 cases in Turkey, the hardest-hit country in the Middle East, climbed to 164,769 after 827 new infections were reported, Turkish Health Minister Fahrettin Koca tweeted.
The death toll from the coronavirus in the country rose to 4,563 after 23 new fatalities were added in the past 24 hours, he said, adding that 974 more patients recovered, bringing the overall number of recoveries to 128,947.
On the same day, Turkey lifted a series of bans that were imposed to curb the COVID-19 pandemic as part of a normalization plan.
Restaurants and cafes in the country reopened with strict hygiene rules. Parks, beaches, swimming pools, hot springs, sports facilities, archaeological sites, libraries, youth centers, camps and museums are also allowed to reopen.
Turkey's airline companies resumed their domestic operations with a limited number of flights. Trains and ships will also start carrying passengers between provinces under the precautions.
In Iran, the tally of COVID-19 infections surged to 154,445 after 2,979 new cases were registered.
The pandemic has so far claimed the lives of 7,878 Iranians, up by 81 in the past 24 hours. A total of 121,004 coronavirus patients have recovered, with 2,578 still in critical condition.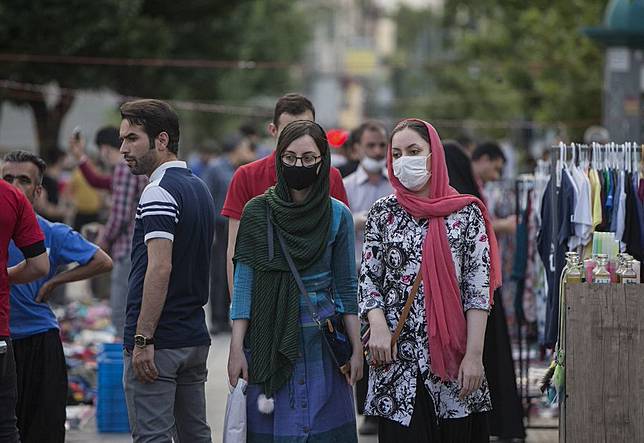 Women wearing masks shop at a bazaar in downtown Tehran, Iran, on May 30, 2020. (Xinhua/Ahmad Halabisaz)
Saudi Arabia announced 1,881 new cases and 22 more deaths, raising the total number of confirmed cases to 87,142 and the death toll to 525.
The kingdom also reported 1,864 more recovered patients, taking the total recoveries to 64,306.
In Qatar, 1,523 new cases of coronavirus infections were detected, bringing the total number to 58,433, of whom 40 have died and 33,437 recovered.
The United Arab Emirates (UAE) announced 635 new COVID-19 cases and two more deaths, raising the tally of infections to 35,192 and the death toll to 266.
The total number of recoveries from the virus in the UAE increased to 18,338 after 406 more fully recovered.
Kuwait reported 719 new cases, bringing the country's total number of infections to 27,762, which included 220 fatalities and 12,899 recoveries.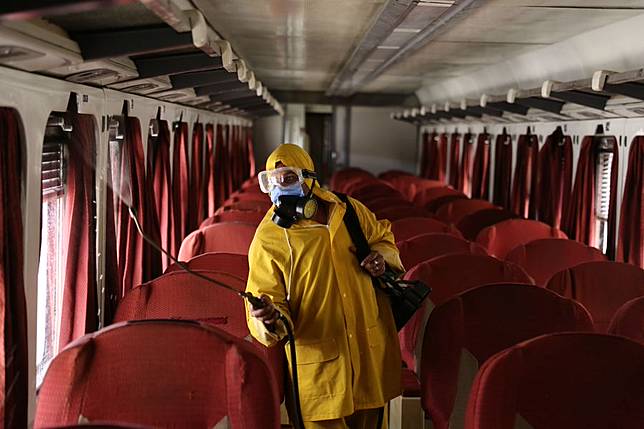 A worker sprays disinfectant in a train in Cairo, Egypt, on May 31, 2020. (Xinhua/Ahmed Gomaa)
Egypt's coronavirus cases reached 26,384 after 1,399 new infections were added.
The Egyptian Health Ministry also reported 46 more deaths and 410 cases of recoveries, increasing the death toll to 1,005 and the total recoveries to 6,297.
Israel reported 98 new COVID-19 cases, bringing the tally of coronavirus infections to 17,169.
The deaths from the virus in Israel remained 285 while the recoveries rose to 14,878.
Oman's Ministry of Health announced 786 new cases of infections, bringing the total number of COVID-19 cases in the country to 12,223, including 50 deaths and 2,682 recoveries.
Algeria reported 119 new cases, taking the tally of infections to 9,513, while the death toll hit 661 and the recoveries reached 5,894.
In Morocco, the tally of COVID-19 cases rose to 7,833 after 26 new cases were added, of whom 205 have died and 5,893 recovered.
Meanwhile, the Kuwaiti government announced that businesses including banks can start their activities as part of the country's phased plan to reopen economy.
Iraq reported 429 new coronavirus cases, the biggest single-day increase, bringing the total number of infections to 6,868, of whom 215 have died.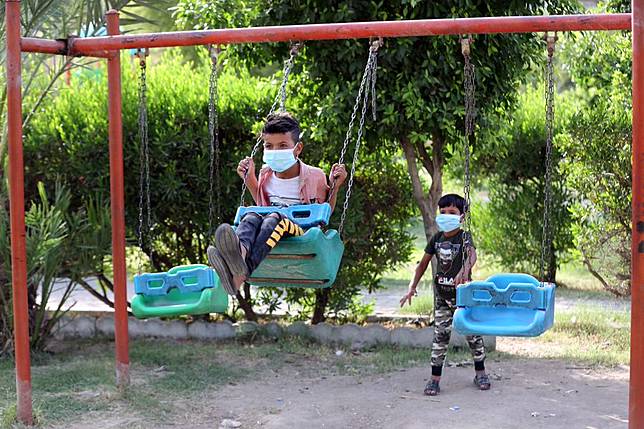 Iraqi children wearing face masks play on a swing in Baghdad, Iraq, on May 27, 2020. (Xinhua)
In Lebanon, the number of COVID-19 infections increased by 13 to 1,233, the death toll remained at 27.
Jordan registered seven more infections, bringing the total coronavirus cases to 764, including nine deaths and 535 recoveries.
The tally of infections with COVID-19 in the Yemeni provinces controlled by the government has increased to 354 as health authorities confirmed 31 new cases, including 84 deaths and 14 recoveries.
In addition, health authorities in the Yemeni Houthi rebel-held capital Sanaa has declared earlier a total number of four infections in northern Yemen, including one death.  ■