Coronavirus: Trump sees 'light at end of tunnel' as US faces its darkest days
Trump optimistic in face of grave assessments by his officials; doubles down on unproven antimalarial drug
Virus-hit US braces for 'Pearl Harbour moment' as it records 1,200 deaths in a day
US President Donald Trump and his task force battling Covid-19 said on Sunday that the United States may be approaching the peak of the outbreak.
"I see light at the end of the tunnel," Trump said at a White House press briefing. "I think indications are some of the numbers coming out today … you know, we had a very good meeting today and we're seeing things that we don't even report because we think it's too early to report."
Dr Anthony Fauci, a key member of the task force and director of the National Institute of Allergy and Infectious Diseases, said Trump's assessment was "not incompatible" with the team's prediction on Saturday that the US was facing a "horrendous week" in terms of Covid-19 deaths.
"So right now we're seeing as we all said correctly, that this is probably going to be a really bad week," Fauci said.
"That is a reflection of what happened two and a half weeks ago. So if we start seeing now a flattening or a stabilisation of cases, what you're hearing about potential light at the end of the tunnel doesn't take away from the fact that tomorrow, the next day, are going to look really bad."
"It's really not incompatible with what we're saying," he added.
Deborah Birx, deputy to Vice-President Mike Pence in the task force, agreed with the possibility that the US was reaching an apex, based on indications that Italy and Spain had turned a corner. She added, though, that social distancing was more crucial than ever in the fight to control the spread in the US.
"Last time I was here I wasn't able to really tell you that Italy and Spain, are coming across their apex, and coming down the other side, and I think to me that's extraordinarily hopeful." Birx said.
"Two other countries look like that now, two other countries with a very similar experience to our experience with higher case numbers and higher mortality."
"If we do this, we could potentially be better," she added.
The officials' statements came as more than 1,200 people died of coronavirus complications in the United States in the past day, according to a tally by Johns Hopkins University.
The Baltimore-based university, which has been keeping a running tally of global coronavirus numbers, said there are at least 337,072 confirmed infections in the US with 9,633 deaths.
The spread of the virus has accelerated in a number of hotspots around the country with New York State being the epicentre. As of Sunday, the number of infected cases in the state of about 19 million residents have reached 122,031, with 4,159 deaths, in just more than a month.
New York Governor Andrew Cuomo said early Sunday that the cases continued to increase but he saw a slight flattening in the pace of that increase. The state reported 8,327 newly confirmed cases in the past 24 hours, the lowest in the past four days.
Trump says US approaching a 'horrendous' time
On Sunday, the US surgeon general Vice-Admiral Jerome Adams said that this week was going to be the "hardest and the saddest" for "most Americans' lives".
"This is going to be our Pearl Harbour moment, our 9/11 moment," said Adams on Fox News Sunday.
Facing the country's most dire phase of the outbreak, Trump doubled down on promoting hydroxychloroquine, which has been used to treat malaria, as a way to treat Covid-19 cases and ease the crisis even though the medicine has not been approved to treat the disease.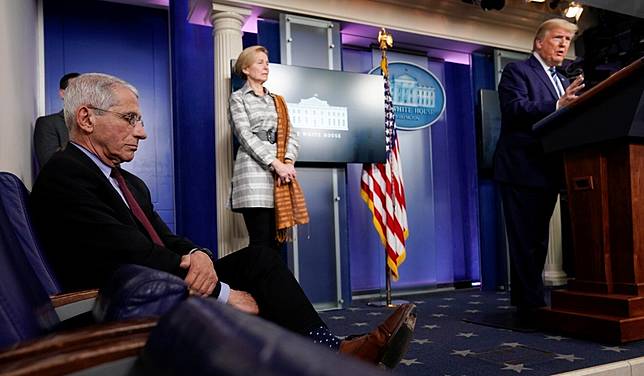 The federal government "has sent it throughout the country and we have it stockpiled 29 million doses," said Trump.
"What do you have to lose?" Trump said repeatedly, saying even if the drug doesn't work, "it won't kill anyone".
Trump may take unproven drug that could be 'so beautiful'
"I am not looking at it one way or the other," he added. "But we want to get out of this. If it does work, it would be a shame if we didn't do it early."
When reporters at the briefing asked Dr Fauci to comment on the effectiveness of hydroxychloroquine, Trump refused to let Fauci answer the question.
Earlier Sunday, Dr Fauci, in his interview on CBS' Face the Nation said: "In terms of science, I don't think we can definitively say it works".
Additional reporting by Agence France-Presse
Copyright (c) 2020. South China Morning Post Publishers Ltd. All rights reserved.