Coronavirus: Hong Kong to limit public gatherings to four and shut cinemas, gyms and other social spots as cases jump by 65
Tough new measures aimed at enforcing social distancing as the city records its largest daily rise in infections
But government will not ban alcohol sales for now amid fierce backlash from the industry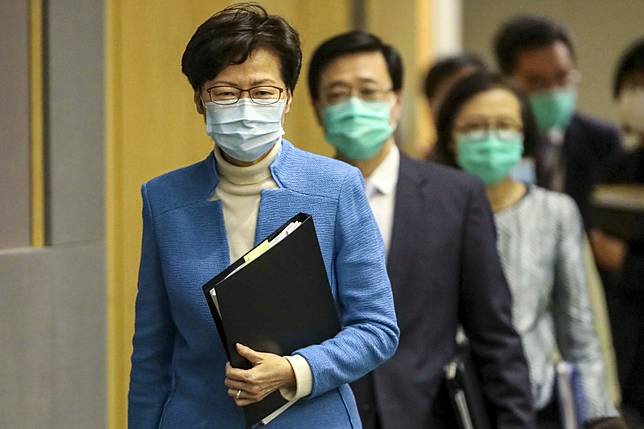 Public gatherings will be limited to four people and a range of establishments shut in Hong Kong under tough new laws the government unveiled to combat a resurgence of the coronavirus outbreak in the city, which saw its biggest single-day jump in infections on Friday.
Calling the situation a "public emergency situation", Chief Executive Carrie Lam Cheng Yuet-ngor said the sweeping restrictions on socialising would be made through amending the Prevention and Control of Disease Ordinance.
But after discussion with her senior Executive Council advisers, an earlier proposal to ban bars and restaurants from selling alcohol was not adopted, a step industry leaders had warned could be crippling.
"The consensus is perhaps that any measures to tackle the issue of infection should not focus on a particular sector or a particular setting," Lam told a press conference. "The crux of the matter is to reduce social interactions."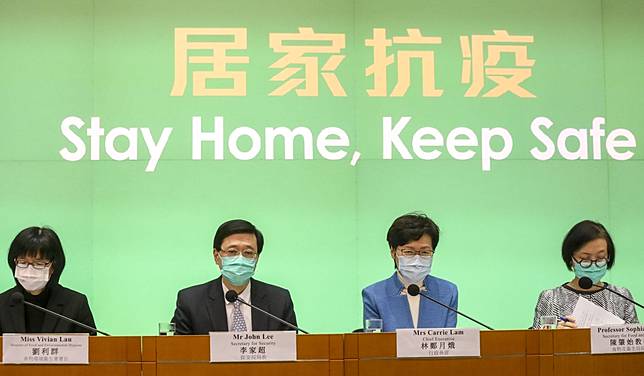 The drastic escalation in containment strategy comes as the city recorded 65 new infections, the largest daily jump since the virus emerged in the city in late January.
"Confirmed cases have surged to 518 cases on Friday," Lam said. "That is a threefold increase from 138 cases two weeks ago. Many of the infected people went to bars, weddings and private parties, which we categorise as social interactions."
The limit of four people in a group would be applied to all public gatherings, with 12 exemptions, including workplaces, government functions, funerals and wedding ceremonies.
The government has also ordered a two-week closure of six types of places that attract large gatherings: gaming centres, saunas, places of amusement such as pool halls, fitness centres, cinemas and party rooms.
More than 21,000 dead as UN warns of threat to 'whole of humanity'
Lam said the administration would require restaurants to limit the number of diners at each table to four, with each table 1.5 metres apart, starting Saturday night.
Under the new arrangements, bars and restaurants will only be allowed to operate at half their capacity and the measures will last for at least two weeks. Restaurants must check patrons' temperature and provide hand sanitiser for them.
Spot checks will be carried out by the Food and Environmental Hygiene Department and violators in the catering industry will be subjected to a maximum penalty of a HK$50,000 (US$6,450) fine and six-months' jail. People who flout the public gathering law will be subjected to a HK$25,000 penalty and six-months' jail.
Lam said it was not "entirely correct" to say a decision had been made over enacting legislation to ban the sale of alcoholic drinks in bars and restaurants.
"The community so far agreed that a ban on liquor is not the right antidote in minimising social interactions under a public emergency situation," Lam said. "We will instead enforce two laws to enhance social distancing."
The community so far agreed that a ban on liquor is not the right antidoteCarrie Lam, Hong Kong's leader
Lam said she understood the measures would place a financial burden on the catering industry. The government would provide financial assistance and she appealed to employers to refrain from lay-offs in the near future.
To further ensure people practise social distancing, the closure of public facilities will be extended to all outdoor sports centres managed by the Leisure and Cultural Services Department from Saturday. These include all parks, playgrounds, outdoor pitches and tennis and basketball courts. The government previously suspended services at beaches, indoor sports centres and public libraries.
The government's stepped-up strategy comes amid a surge in cases, mostly tied to overseas travel but a cluster of infections have been traced back to the city's nightlife district.
For two weeks starting last Wednesday, all foreign tourists have been banned from Hong Kong, while travellers are no longer allowed to transit through the airport. All residents arriving from overseas, along with people from Taiwan, Macau and mainland China, must self-isolate for two weeks.
The government said all arrivals would receive a jar to later provide a deep throat sample, which must be returned to health clinics within a specified time frame.
The expansion of the testing came as Health Secretary Professor Sophia Chan Siu-chee revealed that 0.9 per cent of samples collected tested positive for the coronavirus, although they had not shown any symptoms.
Secretary for Security John Lee Ka-Chiu gave details on home quarantines, saying 77 people had violated the order, 40 of them reported by residents.
Social distancing has become the norm around the world as nations attempt to curb the spread of the Covid-19 disease, which has infected more than half a million people and left over 24,000 dead. Britain and Germany have banned public gatherings of more than two people, while Singapore has capped gatherings, including weddings, at 10 people. The Lion City has also closed all bars, cinemas and entertainment outlets, while religious services have been suspended until the end of April.
Copyright (c) 2020. South China Morning Post Publishers Ltd. All rights reserved.