Coronavirus: Hong Kong's domestic helpers getting used to new normal as social distancing keeps them apart on only day off
Workers gather in public parks and run errands as before but in smaller numbers
Some say employers encouraged them to stay inside and even offered an extra day's paid work if they did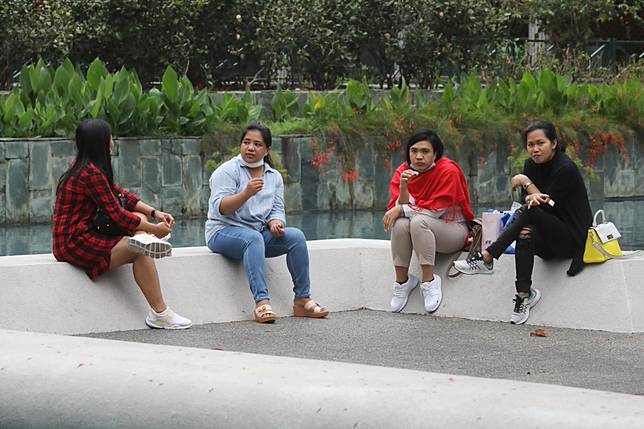 Domestic helpers in Hong Kong made do with limited freedom during their precious weekly day off on Sunday, after the government banned gatherings of more than four people to curb the coronavirus epidemic.
More than a dozen domestic helpers in the city told the Post that they preferred to enjoy their time off outdoors with social distancing, despite concerns they get infected and offers from their employers for them to stay at home or work for extra pay.
On Sunday, more than 100 domestic helpers gathered at Victoria Park in Causeway Bay mingling in groups of between two and four people, most wearing masks. In Central, dozens of domestic helpers ran errands at a shopping centre.
Hong Kong recorded 59 new cases of coronavirus infection on Sunday, bringing the total number in the city to 641.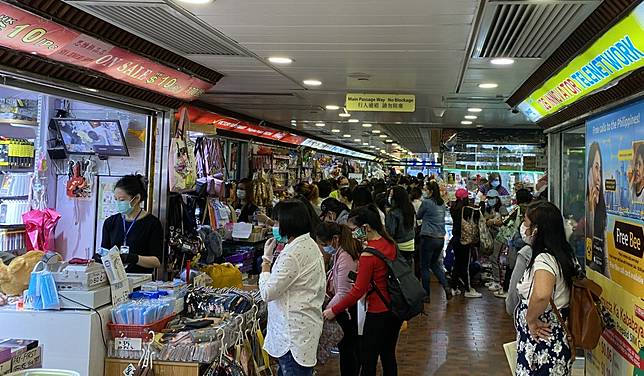 The Labour Department earlier advised the city's some 400,000 domestic helpers, who mostly come from the Philippines and Indonesia, to refrain from gathering in public places and to stay at home on rest days, while also maintaining social distancing where possible.
At the park, Indonesian domestic helper Indri Wahyuni, 32, held a selfie stick so she could watch a Christian sermon on YouTube on her phone with two fellow helpers, also from Indonesia.
"The church is closed, so we just watch online," she said. "We could work on Sunday with salary if we want, but we already work for six days a week and rarely go out. So we want to go out on Sunday to relax. We just have to be more careful with social distancing."
Wahyuni's friend said her employer gave her two masks to use for a full day out.
Susantei, another Indonesian domestic helper in her 30s, was packing clothes to send to her family at home.
"My employer asked me to observe social distancing, but didn't ask me to go home early. I always take a bath and wash my clothes when I get home," she said.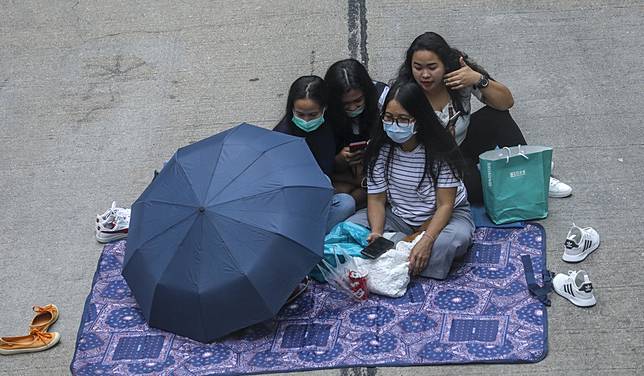 Susantei added that she knew some employers did not allow their helpers to have their day off on Sunday, and only allowed them to rest on another day so they avoided being in crowds.
At World-Wide House in Central, dozens of helpers ran a variety of errands from buying groceries, and clothes, to banking.
Some banks had long queues, but despite it being crowded, shop owners said there were fewer people around than before.
For Jas, a helper from the Philippines who has worked in the city for 18 years, coping with the coronavirus is tougher than anything she has experienced.
"I need to do more cleaning after the virus outbreak, and I am fine doing that," she said, adding she only came out to meet her friends in Central on Sunday for around half a day after cleaning the house.
She said she missed her husband, her son and her daughter, who are in lockdown in the Philippines.
"I worry about them. I ask them not to go out," she said. "We talk on the phone every day. I'm thinking about leaving Hong Kong for good to reunite with my family if the situation does not improve."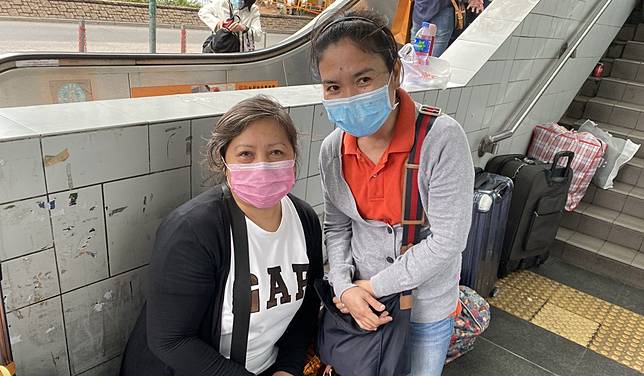 Filipino helper Mary Villejas, 41, went to Exchange Square in Central to meet her friends and run some errands.
"The Covid-19 outbreak is risky and scary, but I think we can manage if we take extra precautionary measures," she said.
Villejas, who has worked in Hong Kong for five years, also said rather than going home by 10pm on her rest day, she planned to go home by 5pm because her employer asked her to be careful.
"In the coming few weeks, my employer said it's better for me to stay at home, or I can work to get extra money on my off days if there is no important errands, I will probably choose to stay in my room and rest," she said.
Copyright (c) 2020. South China Morning Post Publishers Ltd. All rights reserved.