Chinese law experts stress full implementation of HKSAR national security law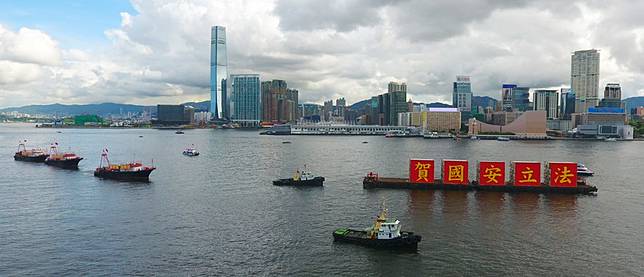 A ship carrying the slogan of "celebrating the passage of the Law of the People's Republic of China on Safeguarding National Security in the Hong Kong Special Administrative Region (HKSAR)" sails at the Victoria Harbour in Hong Kong, south China, July 1, 2020. (Xinhua/Lui Siu Wai)
BEIJING, July 7 (Xinhua) -- Chinese law experts have emphasized the full implementation of the law on safeguarding national security in the Hong Kong Special Administrative Region (HKSAR).
Strong enforcement mechanisms should be established to ensure the implementation of the law, the experts said at a recent symposium.
Han Dayuan, a constitutional law expert, said after the law's promulgation the key is its full implementation.
Han urged relevant authorities to formulate corresponding law enforcement guidelines.
The HKSAR should also fulfill its principal responsibility of national security education to build a broad social consensus needed for the law's implementation, he said.
Chen Zexian, a criminal law expert, said that the HKSAR should complete national security legislation stipulated by the HKSAR Basic Law as soon as possible, which is the HKSAR's duty on safeguarding national security.
Pan Jianfeng, dean of the Law School of Peking University, stressed adherence to the basic principle of the rule of law in implementing the law while upholding the basic principle of respecting and protecting human rights enshrined in China's Constitution.  ■