China constantly improving Chinese socialist legal system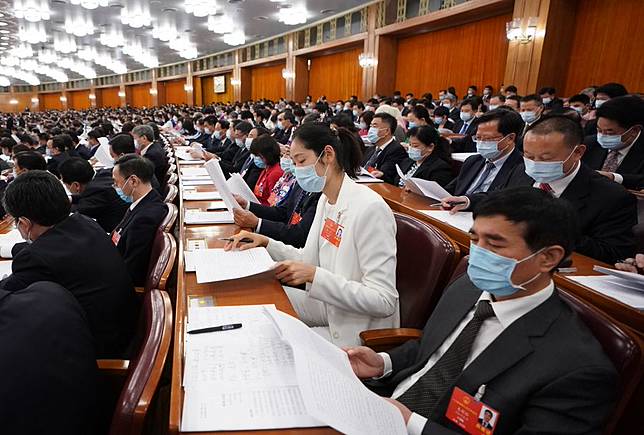 Deputies to the 13th National People's Congress (NPC) attend the second plenary meeting of the third session of the 13th NPC at the Great Hall of the People in Beijing, capital of China, May 25, 2020. (Xinhua/Wang Yuguo)
BEIJING, May 25 (Xinhua) -- China has been constantly improving the socialist legal system with Chinese characteristics, said a top legislature report.
The work report of the Standing Committee of the National People's Congress (NPC) was submitted to the third session of the 13th NPC for deliberation on Monday. Li Zhanshu, chairman of the NPC Standing Committee, delivered the report.
With a focus on comprehensively advancing the rule of law, the top legislature placed equal emphasis on making new laws, revising existing ones, abolishing those that are unnecessary, and interpreting laws that need clarification, according to the report.
While stressing both quality and efficiency, the top legislature strengthened legislative work in important fields, and made constant efforts to legislate in a more well-conceived, democratic, and law-based manner, the report said.
Since last year, the top legislature has deliberated 48 drafts of laws and decisions, and adopted 34 of them, including five new laws, 17 revisions of existing laws as well as 12 decisions on legal issues and major issues.
It heard and deliberated 39 work reports, inspected the enforcement of six laws, conducted three special inquiries and seven research projects, and passed one resolution. It also approved five bilateral treaties.  ■