China's war workers must be remembered
A 30-tonne marble column created as a memorial to the 100,000 Chinese non-combatants in World War I is yet to find a home in Britain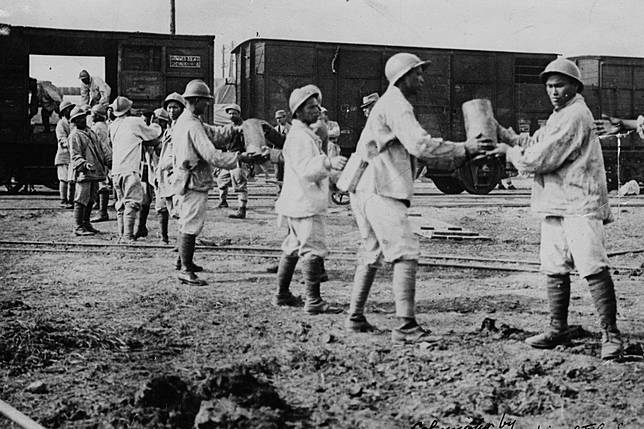 The contribution of Chinese labourers to the winning of World War I has belatedly been recognised in recent years. Such recognition was long overdue. For almost a century, the great sacrifice made by more than 100,000 Chinese non-combatants, mostly peasant farm workers from Shandong, was ignored and forgotten.
Over the last decade, the long, gruelling journey made by members of the Chinese Labour Corps and their work in assisting allied troops on the Western Front has finally received attention. It has featured in museums, books, films and a play performed in Britain. Last year, five members of the corps were given a military send off in Liverpool attended by a representative of Queen Elizabeth, 100 years after their death from disease.
But one memorial which was due to be in place by last year's centenary of the armistice at the end of the war has still not been installed. The impressive 30-tonne marble column has, after delays, been completed by stonemasons in Hebei province. The memorial, which cost GBP250,000 (US$303,265 million), is funded largely by members of Britain's Chinese community. The intention is that it be erected in Britain. But earlier plans for the ceremonial column to be placed in London's Royal Albert Dock business park appear to have fallen through. Campaigners now hope to win support from London Mayor Sadiq Khan for a new site to be found. Khan backed the campaign prior to his election in 2016. Various sites have been suggested, including London's Chinatown. It is believed the memorial would become an attraction for Chinese tourists.
The work of the Chinese Labour Corps was valuable. It included digging trenches, clearing the battlefields of the dead, building roads, making munitions, repairing tanks and airfields, and growing food for the troops. The Chinese contribution came towards the end of the war, at a critical time when allied forces were suffering from shortages of manpower. Much time, effort and expense has gone into creating a fitting memorial for the Chinese labourers. It is to be hoped that this will not be wasted and that a home will be found for the ceremonial column. The contribution of the corps should not have been ignored for so long. It should never be forgotten.
Copyright (c) 2019. South China Morning Post Publishers Ltd. All rights reserved.