Chicago braces for more chaos
Video: Chicago Mayor Lori Lightfoot imposes a citywide curfew Saturday evening, as looting and protests over African American George Floyd's death have escalated in the third largest city of the United States. (Xinhua)

The Illinois National Guard is being ordered to Chicago amid "absolutely devastating" looting and destruction downtown, says Chicago Mayor Lori Lightfoot.

CHICAGO, May 31 (Xinhua) -- After the chaos and violence occurred during protests over an African American's death in Minneapolis, Minnesota, on Saturday evening, downtown Chicago is quiet on Sunday. Some businesses along the streets are busy boarding up; and volunteers are cleaning the debris left on streets.
At a news conference held Sunday morning, Chicago Mayor Lori Lightfoot restricted downtown Chicago, mainly the Central Business District and Loop, to people who work and live within the boundary. Essential workers are also allowed there.
Chicago Transit Agency (CTA) transit is also limited.
Starting Sunday, "the Department of Streets and Sanitation (DSS), Department of Water Management (DWM) and Chicago Police Department (CPD) will reduce access in the Central Business District and Loop area to only employees whose businesses are located within the designated boundaries, individuals who reside in the surrounding area and residents engaged in essential activities as defined in the Municipal Code," a news release read.
CTA service has been suspended for trains and buses coming in and out of the Loop for public safety reasons, the release continues.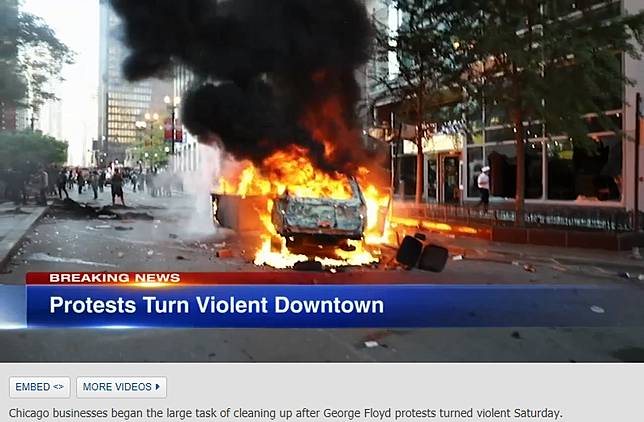 A screengrab from abc7chicago.com on May 31, 2020, shows a frame of its latest report about the Chicago chaos sub-titled "Chicago businesses began the large task of cleaning up after George Floyd protests turned violent Saturday." (Xinhua) 
Illinois State Police has closed major downtown Chicago expressway ramps. The closure will be in effect until further notice.
Illinois Governor J.B. Pritzker would activate 375 Illinois National Guard soldiers to help manage street closures at the request of Lightfoot. The Guard will not interfere with peaceful protestors, Pritzker said.
The Illinois National Guard is being ordered to Chicago amid "absolutely devastating" looting and destruction downtown, Lightfoot said. They would have a "limited presence" tonight.
The National Guard would be deployed on the "outer perimeter" of the downtown area, according to Chicago Police Superintendent David Brown.
The police days off have been canceled, he said.
The precautions followed a chaotic and violent Saturday evening, when many businesses along the streets were looted, police cars were overturned, some properties were damaged, there were six shootings with one death, and police made 240 arrests.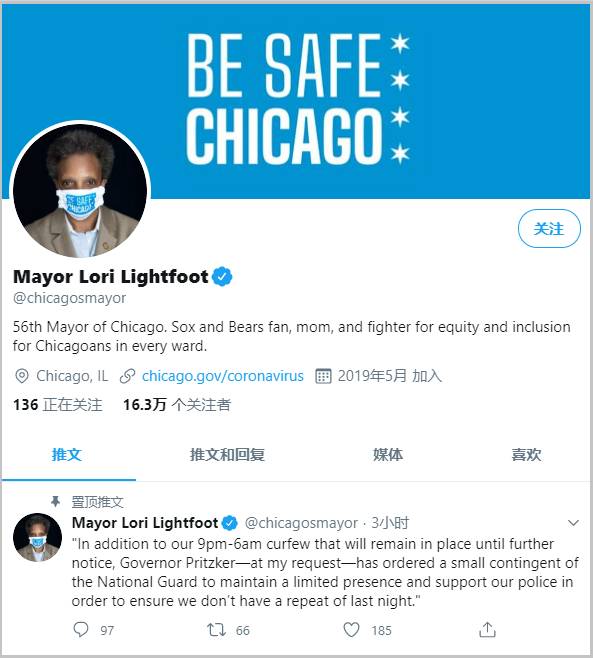 A screengrab from Chicago Mayor Lori Lightfoot's Twitter account on May 31, 2020, shows that she tweets about the citywide curfew and the installment of the National Guard to support the city police "to ensure we don't have a repeat of last night." (Xinhua)

As a result, Lightfoot issued a citywide curfew effective from 9 pm to 6 am daily beginning Saturday until further notice.
George Floyd, a 46-year-old African American, died Monday after Minneapolis police officer Derek Chauvin was captured on video pinning Floyd down by his neck for eight minutes. Protests erupted in Minneapolis in the following day and quickly spread across the United States.  ■