Cairo Opera House reopens with open-air concert following four-month suspension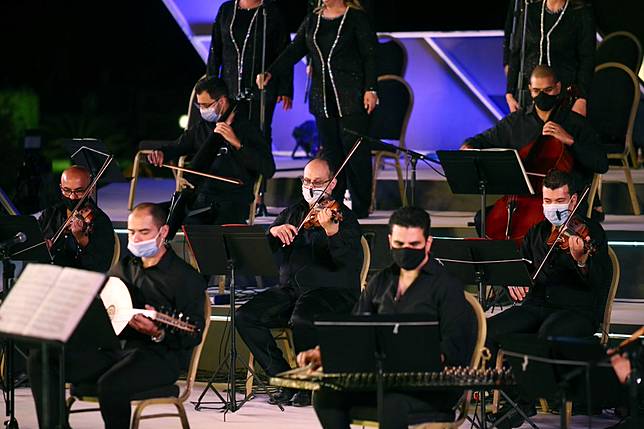 Musicians perform during a concert at Cairo Opera House in Cairo, Egypt, on July 9, 2020. (Xinhua/Ahmed Gomaa)
About 400 visitors attended a concert at Egypt's Cairo Opera House that reopened with strict anti-coronavirus measures on Thursday, after 4-month suspension.
CAIRO, July 9 (Xinhua) -- The Cairo Opera House reopened on Thursday for about 400 visitors who attended a concert performed in an open-air theatre amid strict anti-COVID-19 measures.
"The organization has been a success and all anti-coronavirus precautionary measures have been strictly implemented," Egyptian Culture Ministry spokesman Mohamed Mounir told Xinhua, adding that the concert was attended by Culture Minister Inas Abdel-Dayem.
Mounir emphasized that Egypt is the first Arab and African country to resume the opera house activities since the outbreak of the pandemic.
Thursday's concert included performance of famous traditional Egyptian songs and music, with most of band members having medical face masks on.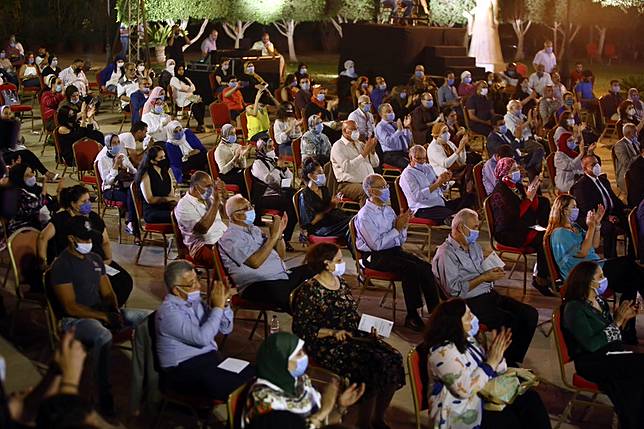 Audience applaud during a concert at Cairo Opera House in Cairo, Egypt, on July 9, 2020. (Xinhua/Ahmed Gomaa)

The activities of Cairo Opera House have been suspended over the past four months as part of the country's efforts to contain the spread of the novel coronavirus.

The country has recently lifted a partial nighttime curfew imposed over the past three months, and reopened restaurants, cafes, theaters and cinemas, as well as hotels, museums and archeological sites for tourists, all with limited capacity.
Egypt has so far confirmed 79,254 COVID-19 cases, including 3,617 deaths and 22,753 recoveries.
Egypt and China have been cooperating closely in fighting the pandemic through exchanging medical aid and expertise.
As for cultural cooperation, Egyptian and Chinese orchestras held in June a joint online concert to mark the 64th anniversary of the establishment of diplomatic ties between the two countries.  ■