CBA Roundup: Guangdong win 22nd straight, Bayi get fourth victory in 38 games
Zhang Hanjun (R) of the Shanxi Loongs controls the ball in a CBA game against the Bayi Rockets in Qingdao, east China's Shandong Province, July 8, 2020. (Xinhua/Zhu Zheng)
The Guangdong Southern Tigers extended their winning streak to 22 with victory over the Qingdao Eagles, while bottom side the Bayi Rockets beat the Shanxi Loongs to grab only their fourth victory in 38 rounds.
QINGDAO, China, July 8 (Xinhua) -- Defending champions the Guangdong Southern Tigers defeated the Qingdao Eagles 114-111 here on Wednesday, extending their winning streak to 22 games in the Chinese Basketball Association (CBA) league.
Guangdong veteran Yi Jianlian, who broke CBA's regular season scoring record in the previous round, was benched in this game, and Guangdong was on the edge of losing the game at the end of the fourth quarter.
Zhao Rui's three-pointer helped Guangdong build a 20-point lead in the third quarter, and though Qingdao cut the deficit to 111-114 with 43 seconds left, Lin Hanwei missed a crucial three-pointer which would have tied the game.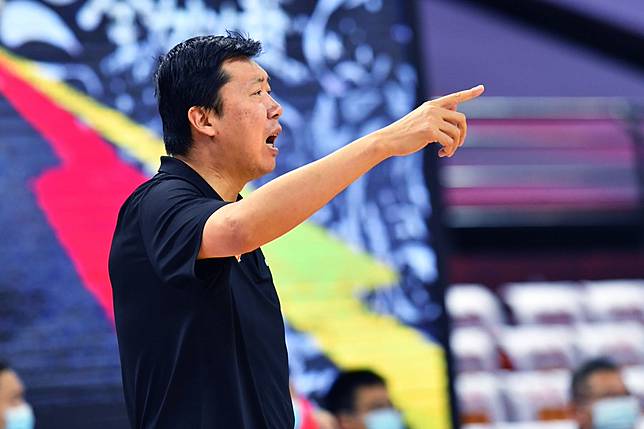 Wang Zhizhi, head coach of the Bayi Rockets, gestures to his players during a CBA game in which they defeated the Shanxi Loongs in Qingdao, July 8, 2020. (Xinhua/Zhu Zheng)
The bottom-placed Bayi Rockets beat the Shanxi Loongs 113-108 in overtime to grab only their fourth victory in 38 rounds. The former CBA powerhouse has two wins in the last three matches since the CBA resumed on June 20.
"I am very happy that we won the game today. We had a strong defense and got 18 more rebounds than Shanxi. Many thanks to our players," said Bayi coach Wang Zhizhi on his 43rd birthday.
Fu Hao scored a game-high 31 points for Bayi, Zou Yuchen collected 18 points and 15 rebounds, and Luo Kaiwen contributed 23 points.
In the other two games on Wednesday, the Nanjing Monkey Kings lost to the Shenzhen Aviators 102-97, while the Liaoning Flying leopards defeated the Jiangsu Dragons 114-91.  ■