Asia-Pacific Coronavirus News: Malaysia records highest number of single day discharge of COVID-19 cases, Indonesia's death toll highest in Southeast Asia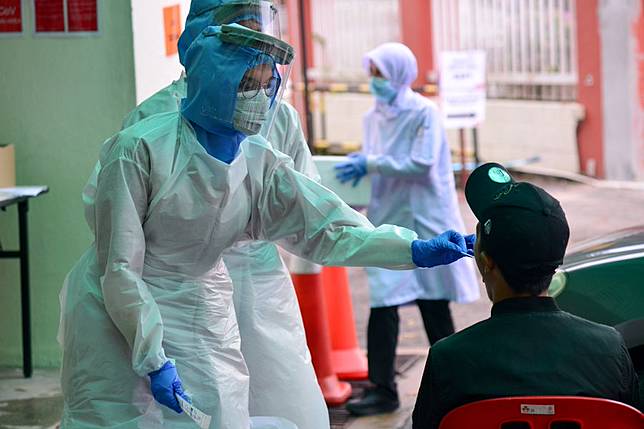 A medical staff member takes sample from a man at a COVID-19 testing area of a hospital in Damansara near Kuala Lumpur, Malaysia, March 30, 2020. (Photo by Chong Voon Chung/Xinhua)
-- Malaysia records highest number of single day discharge
-- Indonesia's death toll rises to 157, highest in Southeast Asia
-- Thailand reports 2 more deaths, 120 new cases
-- India's death toll rises to 38
HONG KONG, April 1 (Xinhua) -- The following are the latest developments of the COVID-19 pandemic in Asia-Pacific countries.
KUALA LUMPUR -- Malaysia recorded a single day high of 108 recovered COVID-19 cases on Wednesday, marking the largest single day recovery rate, the Malaysian Health Ministry said.
Health Ministry Director-General Noor Hisham Abdullah said at a press briefing that 142 new cases were confirmed Wednesday, adding to a total of 2,908 cases in the country.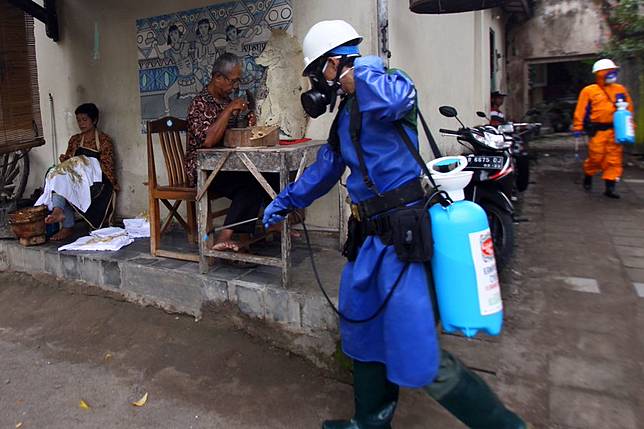 A man sprays disinfectant outside a residence in Taman Sari of Yogyakarta, Indonesia, March 31, 2020. (Photo by Damar/Xinhua)
JAKARTA -- The Indonesian government said on Wednesday that the death toll of the COVID-19 climbed to 157, the highest in Southeast Asia, with a total 1,677 cases in the country.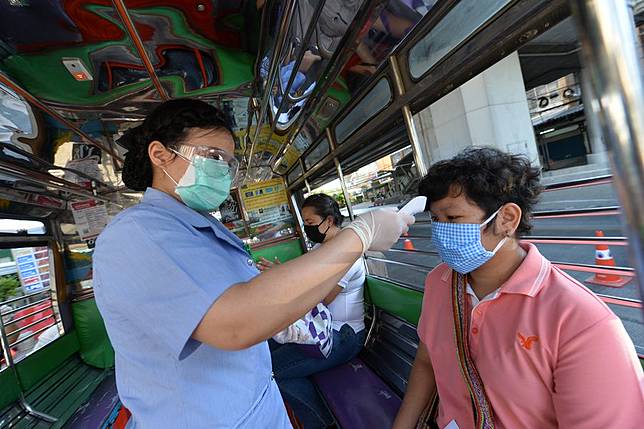 A staff member checks the body temperature of a passenger at a screening point in Bangkok, Thailand, March 26, 2020. (Xinhua/Rachen Sageamsak)
BANGKOK -- Thailand's Ministry of Public Health on Wednesday reported 120 new COVID-19 cases and two deaths, with the total number of confirmed cases in the country rising to 1,771 and death toll at 12.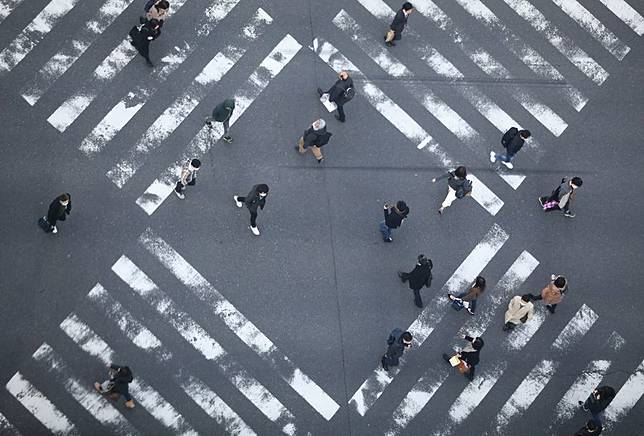 Pedestrians wearing masks walk in the street at Ginza in Tokyo, Japan, on March 6, 2020. (Xinhua/Du Xiaoyi)
TOKYO -- Japan's health ministry and local governments said that 2,235 people had been infected with the COVID-19 virus in Japan as of 11:30 a.m. local time on Wednesday, with rising cases in urban areas prompting local authorities to request residents to restrict their movements.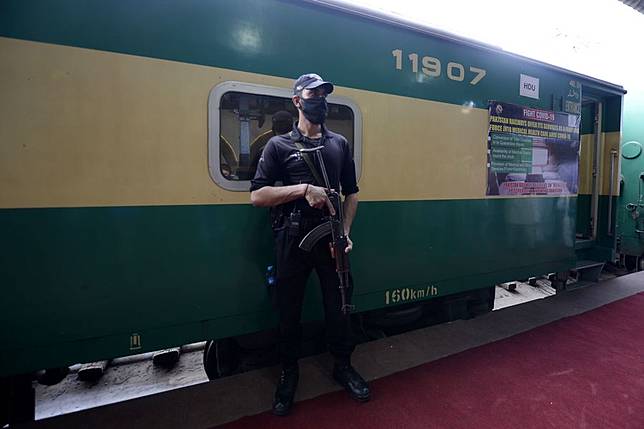 A policeman wearing face mask stands outside a train compartment converted into a quarantine ward at a railway station in Rawalpindi of eastern Pakistan's Punjab province on March 30, 2020. (Xinhua/Ahmad Kamal)
ISLAMABAD -- The total number of confirmed cases of COVID-19 in Pakistan rose to 2,039, with 26 deaths reported across the country, according to the newest data released on the website of the Health Ministry on Wednesday.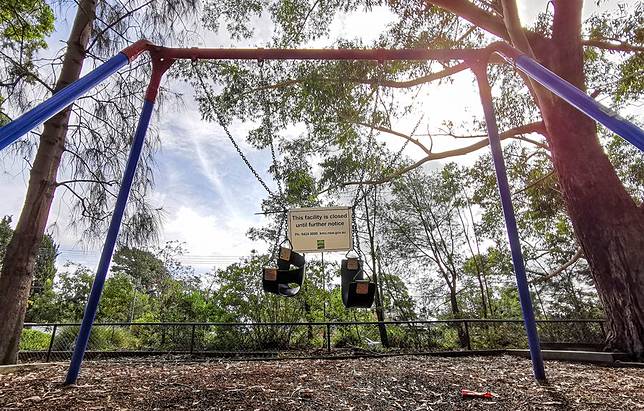 A swing facility is closed in Sydney, Australia, on March 29, 2020. (Xinhua/Bai Xuefei)
CANBERRA -- The number of confirmed cases of COVID-19 in Australia is on the brink of surpassing 5,000, as the total number of cases has grown to 4,860, according to Australia's Deputy Chief Medical Officer Paul Kelly on Wednesday afternoon.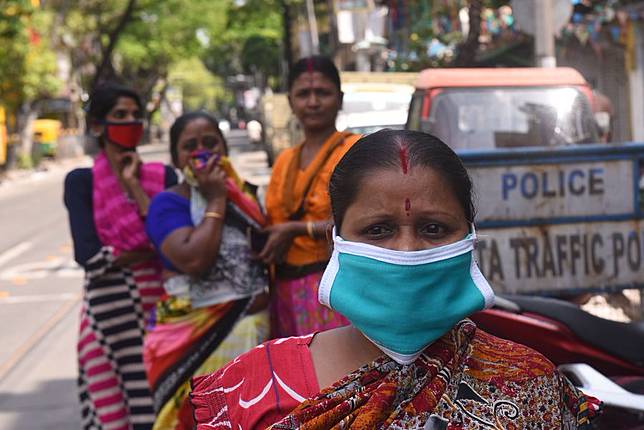 Women with masks are seen at a road during the nationwide lockdown in Kolkata, India, March 31, 2020. (Str/Xinhua)
NEW DELHI -- The death toll from COVID-19 in India Wednesday morning rose to 38 as the number of confirmed cases in the country reached 1,637, the federal health ministry said.
A government-run hospital in Indian capital city was shut down on Wednesday after a doctor tested positive for COVID-19, local media reports said.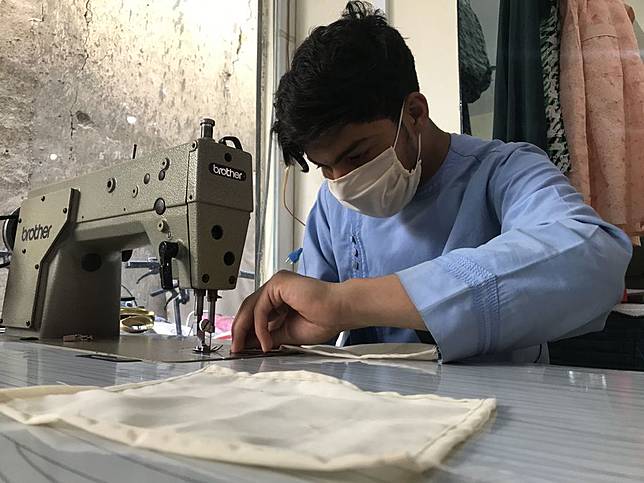 An Afghan man makes masks to donate for local residents in Kandahar city, Afghanistan, March 19, 2020. (Photo by Arghand/Xinhua)
KABUL -- A total of 22 more positive cases of COVID-19 have been confirmed in Afghanistan, bringing the number of the patients to 196, Public Health Ministry's spokesman Wahidullah Mayar said Wednesday.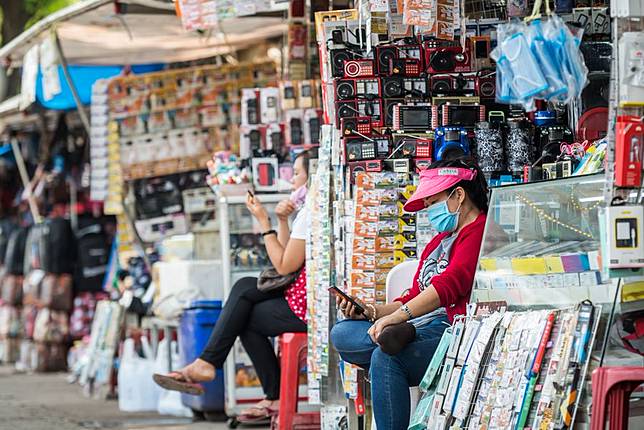 Venders wearing face masks wait for customers along the street in Vientiane, Laos, March 23, 2020. (Photo by Kaikeo Saiyasane/Xinhua)
VIENTIANE -- The World Bank's Board of Executive Directors has approved 60 million U.S. dollars in financing for Laos to strengthen the country's financial safety net and civil registration system.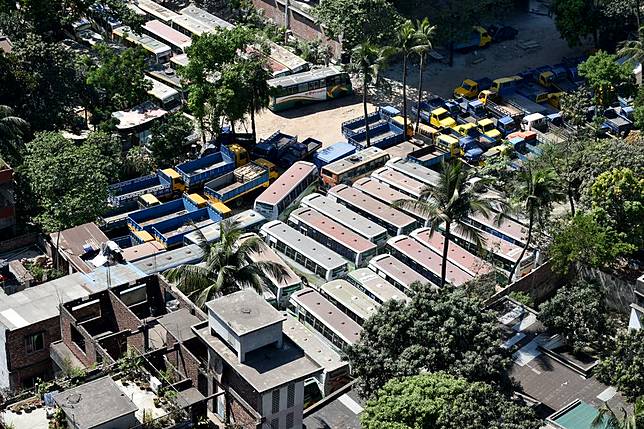 Buses park in a depot in Dhaka, Bangladesh, on March 29, 2020, as the government declares a 10-day shut down to battle the spread of COVID-19. (Str/Xinhua)
DHAKA -- Bangladesh reported the sixth death from COVID-19 on Wednesday. Three more cases were confirmed, bringing the total to 54, according to Health Minister Zahid Maleque.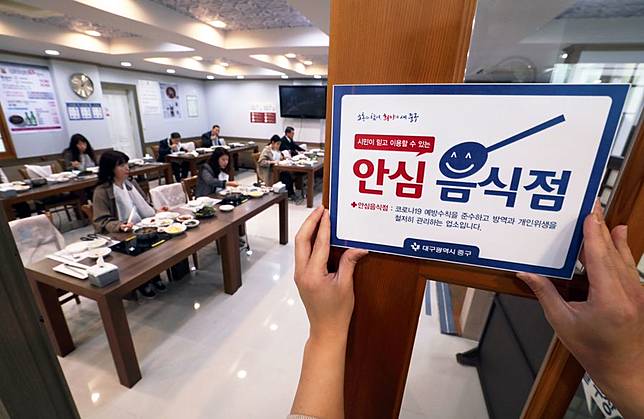 People have meals with a safe distance at a restaurant in Daegu, South Korea, April 1, 2020. (NEWSIS/Handout via Xinhua)
SEOUL -- South Korea reported 101 more cases of the COVID-19 compared to 24 hours ago as of midnight Wednesday local time, raising the total number of infections to 9,887.
Three more deaths were confirmed, lifting the death toll to 165. The total fatality rate stood at 1.67 percent.
A total of 159 more patients were discharged from quarantine after making full recovery, pulling up the combined number to 5,567.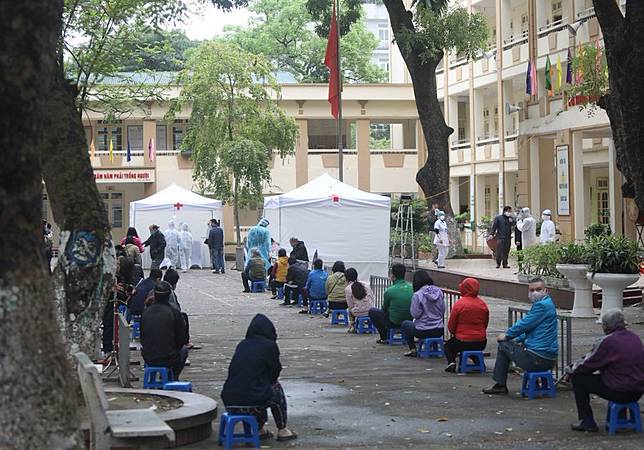 Photo taken on March 31, 2020 shows local residents waiting to take a rapid COVID-19 test at a makeshift testing station in Vietnamese capital city of Hanoi.(Xinhua/VNA)
HANOI -- Vietnamese Prime Minister Nguyen Xuan Phuc signed a decree on Wednesday to declare COVID-19 a nationwide epidemic in Vietnam, according to the government website.
Vietnam's Ministry of Health said five more local citizens had tested positive for COVID-19, sending the total confirmed cases in the country to 212.
A vendor wearing mask is seen in front of the Independence Monument in Phnom Penh, Cambodia, March 25, 2020. (Xinhua/Mao Pengfei)
PHNOM PENH -- The Cambodian government has approved a draft law on state of emergency amid the spread of COVID-19, according to a statement released late Tuesday.
The draft bill was approved on Tuesday during a permanent cabinet members meeting chaired by Prime Minister Samdech Techo Hun Sen, the statement said.
Two more COVID-19 patients in Cambodia have recovered, bringing the total number of patients cured in the kingdom to 25, according to the Ministry of Health (MoH) on Wednesday.■