Asia-Pacific Coronavirus News: India becomes 7th worst-hit country due to COVID-19, cases near 50,000 in Bangladesh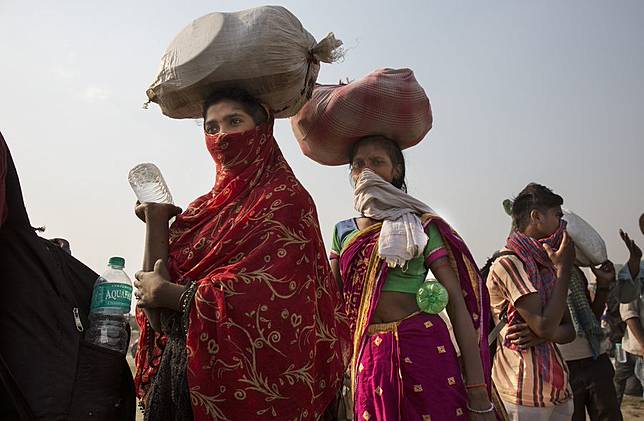 Stranded migrant workers line up to board buses heading for their hometowns during extended lockdown to curb COVID-19 in Ghaziabad, India, May 18, 2020. (Xinhua/Javed Dar)
-- India becomes 7th worst-hit country due to COVID-19;
-- COVID-19 cases near 50,000 in Bangladesh, deaths reach 672;
-- Afghanistan reports 545 more COVID-19 cases;
-- COVID-19 cases in the Philippines surge to 18,638 with 552 newly reported cases.
HONG KONG, June 1 (Xinhua) -- The following are the latest developments of the COVID-19 pandemic in Asia-Pacific countries on Monday:
NEW DELHI -- India became the seventh worst-hit country due to COVID-19 pandemic as the World Health Organisation COVID-19 tracker had placed the country on rank seven in the list.
India's federal health ministry said the total number of cases in the country reached 190,535 with 5,394 deaths.
India's federal health ministry Monday morning reported 230 new deaths due to COVID-19 and 8,392 more positive cases during the past 24 hours across the country. This was so far the highest single-day spike in the cases.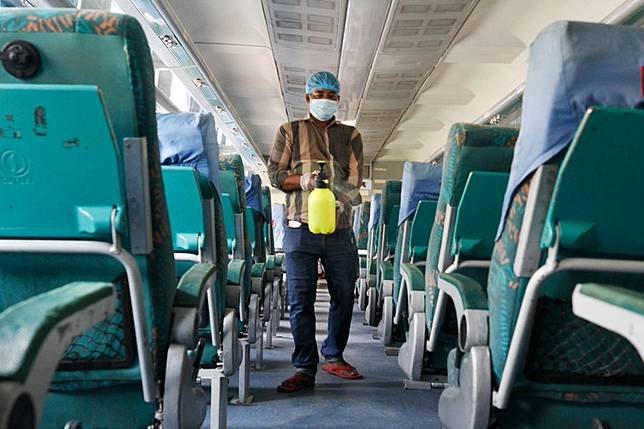 A staff member disinfects a train carriage at the Kamlapur Railway Station in Dhaka, Bangladesh, on May 31, 2020. (Str/Xinhua)
DHAKA -- Bangladesh reported 2,381 new COVID-19 cases, dipping from Sunday's high of 2,545.
"A total of 2,381 new COVID-19 positive cases and 22 deaths were reported in the last 24 hours across Bangladesh," senior Health Ministry official Nasima Sultana told a media briefing on Monday afternoon in Dhaka.
"The total number of positive cases is now 49,534 and death toll stands currently at 672," she added.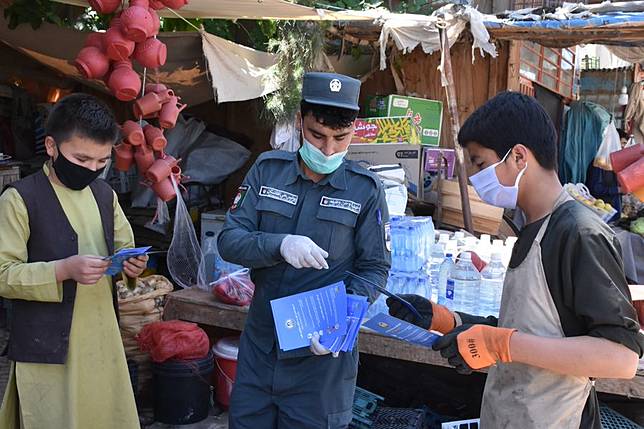 An Afghan policeman distributes leaflet containing tips for COVID-19 pandemic in Mazar-i-Sharif, capital of Balkh province, Afghanistan, May 3, 2020. (Photo by Kawa Basharat/Xinhua)
KABUL -- Afghanistan reported 545 new COVID-19 cases within the past 24 hours, bringing the total tally to 15,750 cases, the country's Ministry of Public Health confirmed.
Eight COVID-19 patients succumbed to the virus, taking the number of people who lost their lives to 265 since the outbreak of the pandemic in the country in February.
The number of people recovered stands at 1,428 after 100 patients recovered during the period.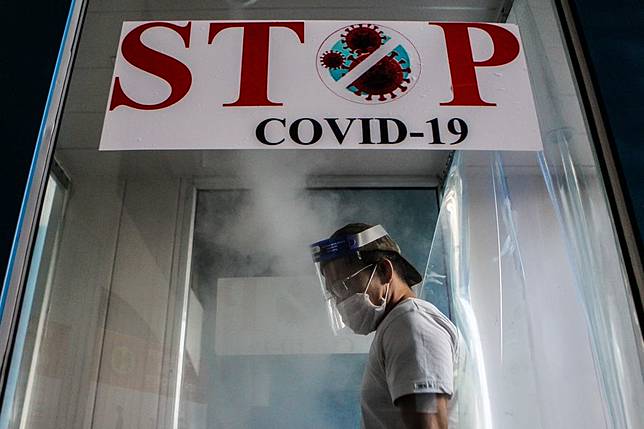 A military reservist from the Philippine Army passes through an auto disinfectant passage system during a social distancing simulation exercise at the Philippine National Railways (PNR) in Manila, the Philippines on May 29, 2020. (Xinhua/Rouelle Umali)
MANILA -- The number of COVID-19 cases in the Philippines climbed to 18,638 after the Department of Health (DOH) reported 552 more infections on Monday.
The DOH said in a daily bulletin that the number of recoveries further climbed to 3,979 after 70 more patients have survived the disease. The death toll also increased to 960 after three more patients have succumbed to the viral disease, the DOH added.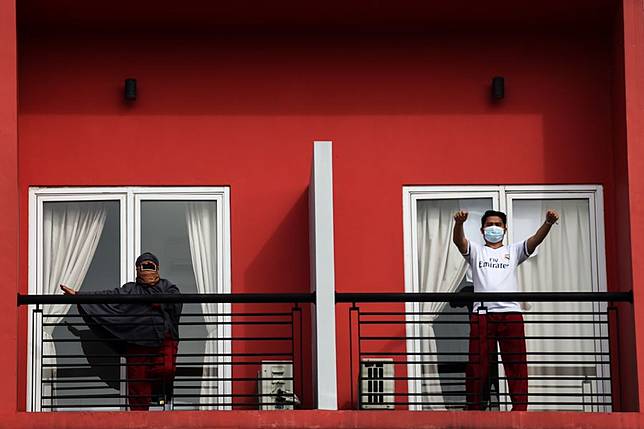 Self-quarantine people have a morning gym organised by health volunteers amid the COVID-19 outbreak at a quarantine site in Tangerang, Indonesia, May 26, 2020. (Xinhua/Agung Kuncahya B.)
JAKARTA -- COVID-19 cases in Indonesia rose by 467 within one day to 26,940, with the death toll adding by 28 to 1,641, Achmad Yurianto, a Health Ministry official, said at a press conference.
According to him, 329 more people had been discharged from hospitals, making the total number of recovered patients stand at 7,637.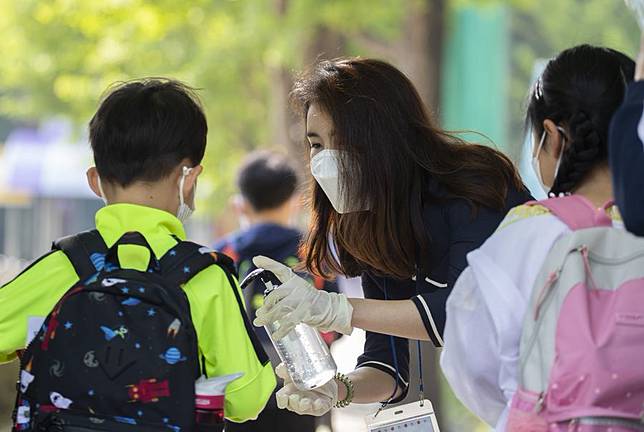 A teacher gives hand sanitizer to students returning for classes at Seryun Elementary School in Seoul, South Korea, May 27, 2020. (Photo by Lee Sang-ho/Xinhua)
SEOUL -- South Korea reported 35 more cases of the COVID-19 compared to 24 hours ago as of 0:00 a.m. Monday local time, raising the total number of infections to 11,503.
After peaking at 79 on Thursday, the daily caseload continued to fall to 27 on Sunday, but it rebounded on Monday amid small cluster infections from religious gatherings in the metropolitan area.
One more death was confirmed, leaving the death toll at 271. The total fatality rate stood at 2.36 percent.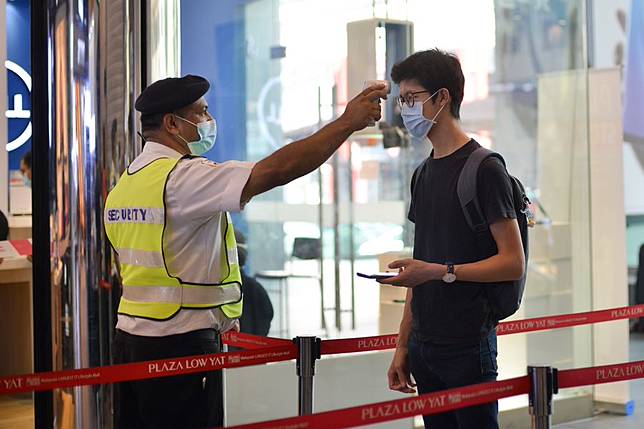 A security guard checks the temperature of a shopper in Kuala Lumpur, Malaysia, May 16, 2020. (Photo by Chong Voon Chung/Xinhua)
KUALA LUMPUR -- Malaysia has gone into 10 days without any new COVID-19 deaths, the Health Ministry said, leaving the total deaths so far at 115.
Health Ministry Director-General Noor Hisham Abdullah said Malaysia reported 38 new COVID-19 cases, bringing the total number of cases in the country to 7,857.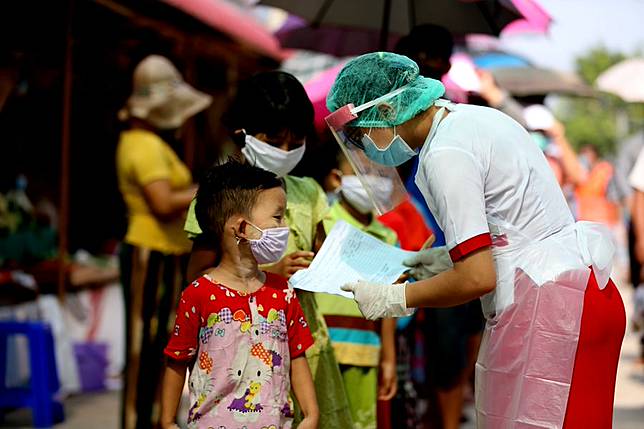 A medical staff collects data related to health condition of the residents during a medical check-up campaign in Yangon, Myanmar, May 23, 2020. (Xinhua/U Aung)
YANGON -- The total number of COVID-19 cases in Myanmar has risen to 228, with four more confirmed cases reported, according to a release from the Ministry of Health and Sports.
Of the newly confirmed cases, all patients are from Yangon region who were under quarantine after their recent arrival from India.
A  total of 138 patients have recovered from the disease and six deaths were reported so far.■