Govt introduces new social benefits as 2.8 million lose jobs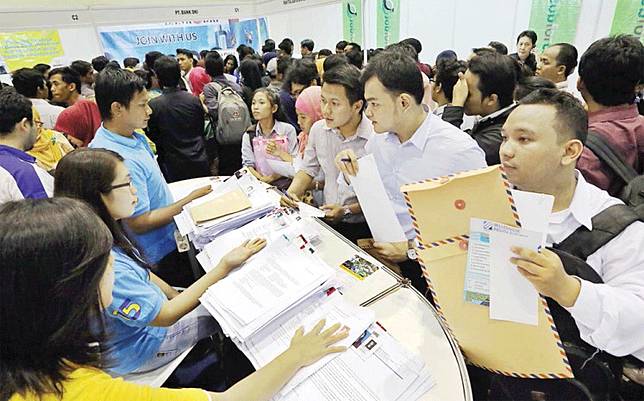 Indonesia's preemployment card program, a social safety net offering aid similar to unemployment benefits, saw an immediate spike in interest within a few days of its launch, as 2.8 million people have lost their jobs nationwide as a result of businesses temporarily halting operations.
Just a day after the program was launched on Saturday, 1.4 million people applied for benefits worth a total of Rp 3.5 million (US$223)  — to be given for four months — in the first registration phase, according to data from the Office of the Coordinating Economic Minister.
The program, which was part of President Joko "Jokowi" Widodo's campaign pledge, initially aimed at providing Indonesian workers the necessary skills training for work.
"Our objective is slightly shifting," Denni Puspa Purbasari, the president director of the program's management, told an online talk on Monday.
"We initially wanted to reduce youth unemployment, but now we were also focusing on furloughed workers, those who have lost their jobs or small entrepreneurs who have lost customers."
Read also: Indonesia advances pre-employment card program to tackle pandemic impacts
With a budget of Rp 20 trillion, the program will cover 5.6 million participants aged 18 years or above who are currently not attending university, particularly those who have yet to receive any social assistance.
As many as 2.8 million people have lost their jobs as of Monday, according to data from the Manpower Ministry and the Workers Social Security Agency (BPJS Ketenagakerjaan). More than half were furloughed and place on paid or unpaid leave.
Employment data from August 2019 shows that 7.05 million people are unemployed in Indonesia, representing a 5.28 percent unemployment rate.
"The scope of the preemployment card needs to be widened, eased and accelerated," said Center of Reform on Economics (CORE) Indonesia research director Piter Abdullah. "With limited data, there's a risk that disbursement will not be well-targeted — but it's better than nothing. Therefore, it's important that social aid is not politicized."
Many businesses have been laying off or furloughing workers as they temporarily shut down operations in line with the government's large-scale social restriction (PSBB) measures to slow the spread of COVID-19.
Read also: COVID-19 impacts across Indonesia's business sectors: A recap
Introduced earlier this month, the policy mandates the suspension of schools and offices, as well as religious and public activities, with only essential businesses allowed to operate.
Domestic factory activities have contracted to a record-low level in the first quarter of this year at 45.64 percent, according to Bank Indonesia's Prompt Manufacturing Index.
"Our employment conditions are very concerning," said the Manpower Ministry's training and productivity supervision director general, Bambang Satrio Lelono.
"Therefore, we hope recipients [of the preemployment card program] can choose courses that will open up job opportunities, either in the same industry or a new one. They can use the training according to their needs or opportunities in the future job market. The program can help them develop their own businesses."
Nearly 200,000 workers in tourism, which has by far been the hardest-hit by the outbreak, are set to apply for the program, according to data from the Tourism and Creative Economy Ministry. 
More than 1,200 hotels in 31 provinces have temporarily closed, according to the Indonesian Hotel and Restaurant Association (PHRI). Of those, 844 have registered their 74,100 employees with the preemployment card program.
"We're worried that many hotels and restaurants don't care enough to register their employees, but workers in this sector highly need the social aid," PHRI chairman Hariyadi Sukamdani told a teleconferenced briefing on Wednesday. "Many hotels have yet to give us their employee data."
Read also: Tourism will take at least a year to recover from COVID-19 outbreak: Economists
Around 7,000 travel agents in the Association of Indonesian Tour and Travel Agencies (ASITA) have been forced to take measures such as cutting salaries and furloughing workers in order to avoid layoffs, said ASITA chairman Nunung Rusmiati.
"We are trying very hard not to lay off our workers, but we would struggle if we don't cut their salaries," Nunung said at the same online event. "So, some of the measures we're taking include cutting workers' salaries by 50 percent and giving them unpaid leave."
The preemployment card program offers 900 courses, including English for tour guides, accounting, information technology and business management, in partnership with eight institutions, such as online learning platform Skill Academy and e-commerce platforms Tokopedia and Bukalapak.
Eligible recipients who have registered at prakerja.go.id will receive their benefit via bank transfers or e-wallet platforms GoPay and LinkAja to ease the disbursement process.
Riza Roidila Mufti and Adrian Wail Akhlas contributed to this story